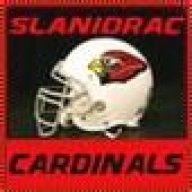 ASFN Icon
Supporting Member
Joined

Jul 11, 2002
Posts

14,327
Reaction score

13,077
Location
We all wondered when Murray might be returning. Consensus seems to be 9 months to a year rehab for his injury.

Let's not forget Murray didn't have the surgery until January. If his recovery is a year would mean he will not play in 2023.

Do you really think he would come back a day to soon for a team that's 2-8 should he be healthy after 10 months? I say it is highly unlikely.

I have a feeling we may never see Murray in a Cardinal uniform again. Even more so should the Texans really suck and gifting us a top 5 pick. Add that to what Kyler might get us in a trade in players and or picks.

It just seems awfully strange to suddenly pick up a QB who " will compete" for the starting job 4 days before the last preseason game.

There's something in the air my friends.