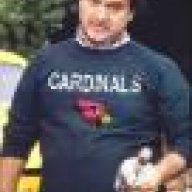 Hold onto the ball, Murray!
Joined

Dec 30, 2002
Posts

36,148
Reaction score

16,944
Location
Wish I could join you guys in this thread but I was right, about everything. Sucks to be you dopes.

Kyler - huge risk, mid work ethic, awful in big spots, coach killer

Keim - sucks, should have been fired with Wilks

Kliff - college loser

Vance - overrated defensive coach and scheme

Suggs - Stupid move

Simmons - should have taken Wirfs

Peterson - finally winning after getting away from this loser franchise

Collins - doofus

Ronin - works hard for no money

Fitzgerald - knew Kyler was a fraud

Bidwill - Target version of his dad

Devondre - stupid to let him go

Kirk - should have extended him

Conner - why extend him at that cost

Humphries - top 5 LT for AZ all time

Hudson - doesn't want to play anymore

Pugh - ONe of the best Keim FA sigings

Josh Jones - JAG

Watt - great signing

Brit Card - confused individual

Dvontel - hates boomers

Zach Allen - should have extended him

Byron Murphy - should have extended him

Marquise Brown - awful trade - he is a loser

Jeff the Shark - perfect humor

SoonerLou - rational Oklahoma fan

Crimson Warrior - irrational Oklahoma fan

Ouchie - getting darker

nashman - Kyler's burner account

Chris Sanders - only mod to ban me - and has done so three times - criminal

K9 - JAG TE ho. Owns a Gardeck jersey.

Harry - would have benched Brady and would run three a days in the offseason

Mao - Runs with the elite - drives a luxury car

Cheese - the more rational brother

...somewhat kidding. You decide.
You're too wishy-washy with me, which is why I wasn't mentioned. Sometimes you agree, sometimes you disagree, sometimes it is heated, other times it is tepid. Get off the fence, man