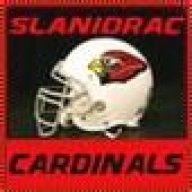 ASFN Icon
Supporting Member
Joined

Jul 11, 2002
Posts

13,862
Reaction score

11,912
Location
When we went with Kingsbury I was excited and happy with his hire. I knew of the losing record but I also knew Texas Tech was not going to draw recruits like other schools. I saw and hoped for another McVay. At first it seemed to be working out. With a young exciting rookie QB who was sure to flourish and grow the future looked exciting. Instead the NFL caught up with Kingsbury and his lack of adjustments and growth. I was wrong.
When the Cardinals drafted Murray I was excited with finally having a dynamic mobile QB. At times he was a human highlight real with issues that he was bound to shed. Injuries certainly squelched some enthusiasm but hey, injuries happen. Then it happened again and then again. The biggest disappointment was his lack of growth. immaturity and leadership. I was wrong.

Maybe Murray can be salvaged with better coaching and offensive philosophy. One that reallys on Murray just being a qb and not a super human athlete expected to carry an offense 60 minutes a game.

It's not hard to do. What were you wrong about?