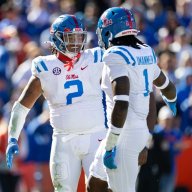 Joined

Jan 28, 2015
Posts

11,699
Reaction score

19,018
Because to them, attacking the clowns that have historically run this org is equal to attacking the logo on the side of the helmet. People can't seem to separate the two. They can't seem to fathom that you can be a fan, and still be critical. People who get angry about athletes trying to bank every last penny possible from dudes who wipe their butts with hundred dollar bills is HILARIOUS.

People, stop taking a player grabbing for the cash as an affront to your team.

Perhaps all contracts should be 100% guaranteed, players never get more than a short term deal, say 3 years. Negotiations cannot begin until the second half of the season prior to the end of a contract, cap charges clear while a player is on IR or unable to play. I dont know...

There has to be an answer.

The constant churn of salaries going thru the roof, owners not being able to keep from punching themselves in the nuts, and players constantly using social media to have temper tantrums is just bad for the sport.
This is the best post I ever seen on this forum.