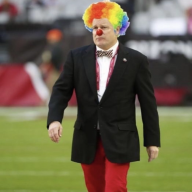 Joined

Feb 14, 2003
Posts

34,815
Reaction score

22,022
Location
Actually, on second thought, the sparkly helmets looked pretty good. I think I've seen them in real life, and they don't look like anything. On TV, if you look hard at them, they do look like bowling balls, but if you're just casually watching or glancing at them, they're pretty sick.
You must be registered for see images attach
Deandre Hopkins, WR
— Welcome back, Nuk! The broadcast team mentioned that Hopkins' special gift is his length. I think it's been underrated how consistently Hopkins bails out spotty passes with his catch radius and body control. Nuk accounted for more than half of our passing yards last night.
Marco Wilson, CB
— A critical attribute of a cornerback is a short memory. Wilson had a rough start to the game and shook it off. Wilson wasn't a lockdown corner but he contained Olave and limited the damage — along with his first professional INT + TD. His enthusiasm is contagious; it's time to come up with a shoe-based celebration
D.J. Humphries, OT
— The Captain was doing werk last night. The right side of the line had some challenges, but Humphries remains a rock who doesn't require a lot of additional help. He had some good highlights of moving to the second level on some of Eno Benjamin's good runs.
You must be registered for see images attach
Kyler Murray, QB
— OMG, how deep inside his own head must Kyler Murray be right now to be performing like this? Half of his passing attempts went to Deandre Hopkins; 72% of his attempts went to Nuk or running backs. This isn't playing NFL quarterback; it's Madden on rookie mode.
Rondale Moore, WR
— The game log says Rondale Moore played 89% of the offensive snaps last night, but he couldn't have been more invisible outside of a red zone penalty. Two targets! It's hilarious to have Kirk Heirbstreet, the #1 pro football analyst who talks about peoples' college careers, mention that CFB fans are waiting for Moore to do something.
Billy Price, OC
— This isn't super-fair to price because he's been on the roster for like two weeks. This guy is a former first-round pick, and people should remember this when they think about how supposedly low-risk first-round OL are. Price had a bad snap and poor communication created some bad opportunities. I'm sure he'll get better tho.