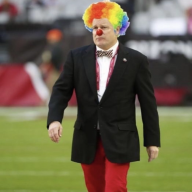 Joined

Feb 14, 2003
Posts

34,815
Reaction score

22,022
Location
The Arizona Cardinals 2022 season started so disastrously that its result doesn't come as a surprise. I expected the Cards to compete for the playoffs and potentially the division based on the continued improved play of their young quarterback and a defense maintaining its solid performance from the year before (finished 6th in defensive DVOA and 9th in weighted DVOA).
We all know what happened next. The Cards only posted four positive DVOA games in 2022, and only two of those were in winning games (Carolina and at LARM). I refuse to take injuries as an excuse when the season began with a traumatic 23-point home beatdown that wasn't even as close as the final score =. That opponent may have won the Super Bowl, but this was a bad team from the jump.
The good news is that new coach Jonathan Gannon is walking into a promising situation. The Cards underperformed their Pythagorean win expectation by 1.8 wins, and they were 1-4 in games decided by a touchdown or less. Twenty-nine players are unlikely to spend time on injured reserve in 2023. The stats suggest that this was closer to a six-win team than a four-win team in 2023, and they'll have the value from a top-five draft pick to leverage before the next season kicks off.
But that's looking ahead. As the 2023 NFL Draft Combine approaches, let's say recognize some of the most memorable performances from the Season that Was.
Heroes
J.J. Watt, DT
— I was vocal at the beginning of the season that Watt was unlikely to play even eight games and would be irrelevant except for a certain kind of Cardinals fan. I'm happy to say that I was extremely wrong. Watt started 16 games and tallied 12.5 sacks. In the last few games of the season, Watt was arguably the only reason to watch the Arizona Cardinals. Watt provided an identity to team that was desperately in need of one from the start, and his cheesy dad vibes gave the fan base somethin to latch on to.
Kelvin Beachum, OT
— In a year defined by inconsistency and injury, Beachum started 17 games and played in 98% of the offensive snaps. When the history of Keim Time is written, Beachum will go down as one of the team's best free agent signings. As we approach free agency next month, it's worth remembering that Beachum was signed initially on July 17, 2020. He's appeared in 48 of a possible 50 regular-season games since. He's not the dominant offensive lineman we need, but he's the kind of consistent performance you want as your fourth- or fifth-best guy.
Marco Wilson, CB
— I don't trust CB coverage stats, but if you're someone who does,
Wilson's 2022 season gives you lots to get excited about
. Marco made a lot of splashy plays including a diving pick-six finish against New Orleans. He was also a pretty consistent stalwart and made the most of his first professional offseason. There are still some room to grow for Marco (including five penalities), but he's a reliable starter coming out of a pretty execrable 2022 defense overall.
Goats
Kliff Kingsbury, HC
— I'm not here to speak ill of the dead or to kick a guy when he's down (if by down you mean frolicking on beaches with IG models). Kliff didn't do anything to earn the head coaching job with the Arizona Cardinals, but it's hard to blame him for accepting it (or the contract extension that followed three years later) when offered. His season highlight should probably be getting over on Sean McVay and the defending world champs in Week 10 with Colt McCoy as the starting QB. Almost everything else was so embarrassing you have to wonder how in charge of personnel and game day decisions he really was.
Isaiah Simmons, LB(?)
— The problem with unique prospects is that you have to either warp your entire defensive structure around them or you have to ask them to do less to be productive within the context of the defense. Simmons made some special plays last season — his eight game-changing plays (interceptions, sacks, and forced fumbles) was second most behind J.J. Watt's 13.5. But the consistency from down-to-down wasn't there. It's telling that Vance Joseph has moved him further and further from the ball. I wanted Simmons to be evolutionary Karlos Dansby; he's turned out to be What If We Really Made Adrian Wilson a Linebacker.
Rondale Moore, WR
— This freaking guy. The highlight of Rondale Moore's 2023 is probably when J.J. Watt had to tell him to buck up after being mad about a drop in practice. Moore has been exactly the same guy in the NFL that he's been in college:
xc_hide_links_from_guests_guests_error_hide_media
And people will say that he's this close to being, like, Brandin Cooks or something. One TD. Greg Dortch had more targets.