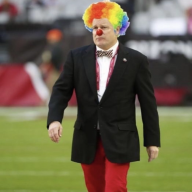 Joined

Feb 14, 2003
Posts

33,961
Reaction score

19,811
Location
The first few minutes of this last episode highlight how over-his-head Kliff Kingsbury really was. From the sideline throughout the San Francisco game, bad things kept happening and Kliff had absolutely zero answers for it. He couldn't figure out the cause, and he couldn't figure out the solution.
Now that the Hard Knocks season is over, it's interesting that a show that purports to go "Behind the Scenes" with the Arizona Cardinals gave very little information of what happens behind the scenes. If you watched this, you probably took away that most of what NFL players do during the week is sit very bored in meetings where they don't talk much about football.
Some of this, surely, is because the Cards don't want their Very Secret and Good Game Plans shown to provide the opposition a(n even greater) competitive advantage. But a lot of it is, I think, that the Cards aren't run very professionally right now. Vance Joseph seems to do a better job with this, but especially the offensive side of the ball seems to be managed like this is a D1 program with restrictions on how long people can work.
Where are the clips of Rondale Moore wearing out the ***** machine after his drop in practice? Where are the clips of Billy Price repping shotgun snaps during extra time?
I get that meetings are boring, and I expect that meetings are even more boring if you're a professional athlete who wants to go play a game, but a professional football program shouldn't be 100% pranks.
Heroes


Keila Watt
- What. A. Cutie. Pie. It's still weird that J.J. Watt and Brian Cushing married sisters, but I'm interested enough in Kelia that I'll probably try and check in on her WPSL(?) games when she comes back.
Vance Joseph
- Hear me out: what if Joseph is a better leader and manager than he is a tactician? That's the argument that you make if you're him or his agent. Vance is great in front of the microphone and that defense mostly fought hard all year.
Kliff Kingsbury
- You can't really accuse Kliff of lacking self-awareness. He never furnished his Paradise Valley mansion because he didn't want to have to pack up a bunch of stuff when he was let go. LOL.
Goats
Kliff Kingsbury
- The offensive portion of the episode revolved around the historic "Joe Montana" play, which is the WR screen/throwback play. First, it's difficult to imagine how many actual plays can be on that playsheet if they're all named like this.
Here's Bruce's 2016 playbook
. The Day 2 installation play is G Trips Rt 66 Y Stick. Three receivers have sight adjusts. This is what an NFL playbook looks like. A.J. Green still had to fight through two defenders to get to the underthrown ball.
Deandre Hopkins
- I don't have enough "K"s on my keyboard for how CHEKKKKKKKKKK'D out Nuk is. He's playing 9-ball by himself and takes Isaiah Simmons to do some ceramics work. I love Nuk, but this was a bad look after being a highlight of this boring season of Hard Knocks.
Derek Watt
- How DARE you try and steal some of your big brother's shine by scoring a touchdown on the day of his last game?