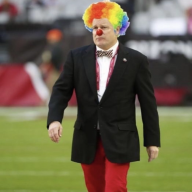 Joined

Feb 14, 2003
Posts

34,961
Reaction score

22,365
Location
I don't know why, but I watched every snap from this game live. It felt like coming home. This is the kind of Arizona Cardinals football longtime fans are used to: boring, low-quality, and meaningless. Team results are subordinate to individual success, and we start fighting over whether the best players on the roster deserve to stay, assuming that everyone else is replaceable (because they are) and less responsible for the outcome of the game (they are not).
So, what do we watch for over these last few weeks? Continuing to pile on Trey McBride seems like a bad idea — tight end is one of the slowest-developing positions in the NFL (Tony Gonzalez had 368 yards and 2 TDs his rookie season). I'll be watching our young pass rushers Cam Thomas and Myjai Sanders for signs of life and the potential to be complementary edge rushers in the future. Of course, they combined for 22 total snaps this week.
You must be registered for see images attach
J.J. Watt
- Now, this is a guy who is not ready to go quietly into that good night. He knows that someone is going to turn on film of the last four games of the Cards season to try and convince themselves that it should be spelled J.J. Washed. Instead, they're going to see a guy fighting to get paid $10 million annually for the next three years.
Christian Matthew
- Good on you, rook. Matthew played the third-most snaps on the team and acquitted himself pretty well for a late-round rookie following around Jerry Jeudy. He had five tackles and a pass defensed.
Kliff Kingsbury
- I have your back, Kliff. He was within a missed PI call of being within one score with six minutes on the clock playing with his third-string quarterback for most of the second half. This was while his backups combined for two turnovers and six three-and-outs.
You must be registered for see images attach
Marquise "Hollywood" Brown
- Hollywood brought in half his targets for a massive 4.8 yards per reception. He played mostly out of the slot in three-WR sets. Since his injury in Week 6 (and Nuk returning from suspension), he's boasting a 58% catch rate for 7.1 yards per reception and 0 TDs. Nice job!
Zaven Collins
- Tall Jordan Hicks had eight combined tackles and zero impact plays yesterday. You can find him getting pushed out of the hole or running past it on many plays. Here's a shocking stat: in 14 games this season, he has
one more pass defensed
than he did last season, when he barely played. Yowza.
Leki Fotu
- Like much of the roster, it's not really Fotu's fault that he's a starter. He's probably doing what he can; he's just not good enough. No one likes a big fat nose tackle more than I do, but investing high draft capital at a position that you hope only plays 30-40% of snaps isn't super-efficient. But he's extremely bad and easily moved.