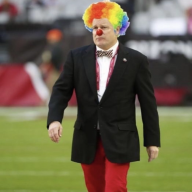 Joined

Feb 14, 2003
Posts

34,028
Reaction score

20,041
Location
Pour one out for Kyler Murray. I've been a skeptic of him from the start — partly because I wanted Josh Rosen to succeed, partly because my in-laws are Sooners and I don't want them to be happy, and partly because I'm the kind of small-c conservative football fan who likes seeing cannon-armed pocket passers rifling the ball downfield on a frozen rope into tight windows. Despite being a huge fan of Michael Vick for longer than I should, Drew Bledsoe is still the prototype QB in my mind.
This isn't about me, though. This is about Kyler Murray, who isn't only going to be dealing with a significant rehab schedule, he's going to be dealing with a profound blow to his self-conception over the next few months and maybe years. Kyler's career to date has been basically unalloyed individual success. Even without the injury, this would have been his first year without any postseason laurels. There will be no Pro Bowl honors this year.
So, what happens? This team didn't trust Kyler to do his homework over the past three offseasons, and though we agree that three dopes sit atop the Arizona Cardinals' org chart, they have more information than we do. I have no doubt that Kyler will attach his rehab schedule with rare tenacity; I'm less sure that he'll consider shifting his mindset to come into game week (and not just game day) more prepared above the neck.
Carson Palmer went on IR with an injured knee on Nov 16, 2014. He returned the next season to start every game and compile over 4500 passing yards on the way to a 13-win season. Carson Palmer was 36 years old. All is not lost.
You must be registered for see images attach
James Conner, RB
- New England's rush defense is actually good (10th in Rush DVOA to-date), and Conner averaged a respectable 5.6 YPC against them. Connor is still a below-average starting RB who can't be trusted to stay healthy, but he can be the second back on a good team (which he was last year).
Zach Allen, DL
- Will Zach Allen look better in a Bears ($103.2 million in
2023 effective cap space
) or Bengals ($38.5 million) uniform next season? Maybe the New York Giants ($46.0 million) will double-dip with him and Byron Murphy? Either way, he will have deserved every dollar for the amount of effort and development he's done here.
Cam Thomas, OLB
- Thomas was the Johnny on the Spot who forced Mac Jones' lone interception of the night, and he continues to flash ability in games and switches. So, of course, he played the same amount of snaps as Trysten Hill and 14 fewer snaps than Markus Golden. This team makes me so angry sometimes.
You must be registered for see images attach
Isaiah Simmons, ILB
- I was about as big a fan of Simmons as there was when we drafted him. I thought he was going to be the evolutionary version of Karlos Dansby. Then I see him getting caught looking into the backfield on the Hunter Henry 37 yard reception. In a lot of ways he's Murray's defensive counterpart -- incredible splash plays combined with an inability to do a lot of the easy stuff.
Josh Jones, OT
- Well, at least for a week we're not going to have to hear people talk about how good Josh Jones is and maybe we should trade D.J. Humphries. If you think an offensive lineman is doing well during a game, the next step is to see how often he gets help from a linemate next to him or a TE or running back. Jones was left on an island this week and the results weren't pretty.
Marquise Brown, WR
- Hollywood and Nuk are right next to each other in the DYAR rankings (44 and 45). In the meantime, Hollywood caught half of his eight targets and only two receptions resulted in first downs (plus one PI penalty drawn. For whatever Brown might offer in the primary WR role, he's not in that right now, and he's really struggling to make an impact.