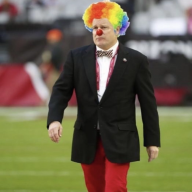 Joined

Feb 14, 2003
Posts

34,865
Reaction score

22,109
Location
`What's to-day.' cried Scrooge, calling downward to a boy in Sunday clothes, who perhaps had loitered in to look about him.
`Eh.' returned the boy, with all his might of wonder.
`What's to-day, my fine fellow.' said Scrooge.
`To-day.' replied the boy. `Why, Christmas Day.'
`It's Christmas Day.' said Scrooge to himself. `I haven't missed it. The Spirits have done it all in one night. They can do anything they like. Of course they can. Of course they can. Hallo, my fine fellow.'
You must be registered for see images attach
Marco Wilson
- Bryon Murphy, Marco Wilson, and Antonio Hamilton should be the fee-good stories of 2022. Instead they're relegated to an afterthought of a lost season. If Keim were still around, he'd use Wilson's development as a pretext to low-ball Murphy.
JJ Watt
- Played 95% of the defensive snaps last night. There will be discourse around Watts leadership vs his deserving to chase a ring. I'm fine using up whatever he has left and letting another team take on the 2023 injury risk.
Greg Dortch
- The problem with Dortch is that he's blocked by Hollywood Brown and Rondale Moore. Kliff doesn't have the cojones to run out a lollipop guild package, and that's another reason he needs to go.
You must be registered for see images attach
Billy Price
- We know that college OL are hard to develop. Price isn't doing the work to become an effective of consistent shotgun snapper. Mystifying that this is still a problem.
A.J. Green
- The best thing Green can do is have an in-game meltdown like Antonio Brown and walk out of the stadium during a game. He played 25 snaps last night and had zero targets.
Zaven Collins
- What a tremendous disappointment this guy is. No big plays over the course of his second season.