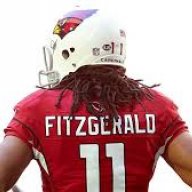 Crawled Through 5 FB Fields
Joined

Aug 10, 2005
Posts

13,405
Reaction score

2,982
Location
QB (4):

3-Carson Palmer—out of sync, pushed up into tight pocket by edge pressure where he couldn't step into any of his throws. BA said Palmer wasn't getting the ball out fast enough, yet some of the passes he did release quickly were errant, like the interception over the middle intended for Nelson---which, by the way, as a QB in the NFL you can't get by throwing to spots---the CBs in this league are going to disrupt the timing and reroute WRs, which makes it incumbent upon the QB to adjust to what the defense is giving you. With the way Khalil Mack was wreaking havoc, and without a clear strategy to double team him, BA should have gotten Palmer out of the game. It's scary that BA allowed for Palmer to take that many hits and sacks in a meaningless pre-season game. Plus, Palmer did the right thing by taking off to beat pressure one time, because you have to keep a pass rush honest, but man Larry Fitzgerald was right to scream to him to get down. if you recall, Palmer suffered his shoulder injury scrambling for a first down in the SD game---but that at least was a real game.

5-Drew Stanton—looked like a totally different player than the one we saw the first two weeks. Looked relaxed and in command, and didn't stare down every receiver. I would be curious to know if any team is looking to trade for Stanton. While, his performance last night confirmed the coaches' belief in him, because Sims and Thomas played equally as well, why not see if a team can make an offer for Stanton that would help the team in another need area.

1-Phillip Sims—plays with such a sense of calm, which is uncanny for a rookie. He has a Russell Wilson kind of calm. Loved the designed 3rd down bootleg run. His throws were fluid and accurate.

6-Logan Thomas---it makes no sense to draft Thomas in the 4th round, watch him show marked improvement from year one to year two and then cut him. Keep him and with 3 other QBs, make a short yardage Tebow type short yardage run package for him, try him some at TE, etc. But keep his development going. He did one heckuva job directing the game winning drive. That was inspiring. Can you really quit on this kid now? Has he played well enough to garner some trade value?

RB (5):

38-Andre Ellington—showed once again that he is the wrong type of RB to be running into stacked boxes---stacked because the coach, for some odd reason believes he can run 2 TE sets and motion the WR into the box only which brings 8 defenders into the box, to then run a scat back into the pile. His only recourse is to bounce the plays, which versus teams with speed on the perimeter like the Seahawks and now that the Raiders have speedy OLBs Khalil Mack and Malcolm Smith, the odds of Ellington being able to bounce around those wide corners are slim. When Ellington is in the game, the offense should be some version of a spread---and if not he should have a FB in front of him, to take out first flash of color.

33-Kerwynn Williams—still hits the hole faster and more aggressively than any RB on the roster, and, because he runs so hard and fearlessly, he has won the job as KO returner.

39-Robert Hughes—situational player on offense who picked up a good first down on a reverse FB dive. Good STs player.

31-David Johnson—his value as a receiver was on high-def display. He runs remarkably under control and is precise about his feet and his routes. Got stuffed and fumbled on a third down play that still absolutely mystifies me---did any see the wide split LG Ted Larsen made from the center? You could have driven a small golf cart through that split. Even worse, it allowed the LB to blitz untouched right into the handoff to Johnson. What in the world was going on there? But in the passing game, Johnson put on a show.

27-Chris Johnson---still out with hamstring pull. Gives the team 3 speed, receiving RBs and the kind of depth the coaches want. But, needs to play in PS game 4 to show how he fits.

1st Man Out:

30-Stepfan Taylor—isn't getting the touches and comes in behind Williams. BA&HG went to Grice down the stretch.

23-Marion Grice---showed up well in this game down the stretch. His TD was nifty. Has PS eligibility.

OL (8):

68-Jared Veldheer—really struggled with Mack, but again, when does he ever get the chance to practice against an explosive speed rusher such as Mack? The Cardinals' tackles don't get to prepare like other tackles do who have legit speed rushers to block in practice.

76-Mike Iupati—out 4-8 weeks after getting torn meniscus cleaned up.

53-A.Q. Shipley—I thought for the most part he stood up to Williams well, save for the one time Williams collapsed the tight pocket. On the third and short plays, Shipley stood Williams up and gained some leverage on him. I think this kid is pretty good player.

61-Jonathan Cooper—was inconsistent, but was working hard to make good adjustments.

74-D.J. Humphries—looks good on some plays, but then gets beat a couple of times and looks bad doing so. Whatever the coaches are doing to motivate him isn't working. The door is wide open for him to step in and take charge, but right now his inconsistent play keeps slamming it shut. he is too talented to be playing this unevenly.

62-Ted Larsen—has been a pleasant surprise and once again acquired himself well in the game. Loved the savvy he showed in picking up Mack on an inside spin move that left Veldheer reeling backward. Plus, it is good to see that they are running the ball behind him as the intend to do with Iupati in short yardage situations and he is getting the job done.

78-Earl Watford—took a major step forward in this game at RT and I agree with many of you that he should get the start on Thursday.

63-Lyle Sendlein—had a solid game and could be gaining ground on Shipley.

Suspended:

70-Bobby Massie—weird to see him playing with the third offense. Totally whiffed on a block that led to a 9 yard loss.

1st Man Out:

79-Bradley Sowell---was exposed and exploited. Lost all command of mechanics, which with his years of experience at this point, is unacceptable.

Sleeper:

71-Anthony Steen—very physical in the running game both at guard and center. Could make a run at the C/G swing spot.

TE (3):

85-Darren Fells—is working hard in the running game.

80-Ifeanyi Momah—made two of the most outstanding plays imaginable, one by carrying five defenders five extra yards for a first down, and the other by taking a major shot in traffic and refusing to go down in order to advance the ball another 12 yards toward the end zone.

84-Jermain Gresham—has begun to make strides in practice, why he didn't play is not known at this point.

Note---with Niklas injured again, coaches can use Humphries as a blocking #4 TE.

IR:

87-Troy Niklas—as they say, can't make the club from the tub, How about putting him on six week IR and working him into shape?

1st Man Out:

83-Gerald Christian—made a nice catch on first down and is making more of an impression as a rookie than Niklas did.

WR (5):

11-Larry Fitzgerald—good to see him get targeted and make some good catches.

12-John Brown—didn't separate from coverage as quickly as he could have.

15-Michael Floyd—is training hard for his return.

13-Jaron Brown—looked like he was open a few times, but didn't get many targets.

14-J.J. Nelson—is learning how to adjust to press man coverage, and this will take him some time and time too for Carson Palmer to react to whatever adjustments and re-routes he has to make. Looks like he's the first team punt returner.

1st Man Out:

16-Jaxson Shipley—his 21 yard catch from Logan Thomas on a crossing pattern was a thing of beauty, as was his nifty punt return following the safety. Going out on a limb here to tab Shipley over Golden.

1st Man Out:

10-Brittan Golden—with Ellington and David Johnson so heavily involved in the passing game, a #6 WR becomes a moot point, However, the coaches were playing him early and he had 4 solid receptions.

16-Jaxson Shipley---good reception for a first down and one decent return, but he is looking like he will need to spend some time on the PS.

NT (2):

95-Rodney Gunter---held up well at the point of attack, will see next week whether he can get better penetration. Said the same last week.

69-Xavier Williams—didn't seem to favor his sprained elbow---played with pop again.

1st Man Out:

66-Alameda Ta'amu—he is making strides and is starting to round into shape, as he is starting to make plays on the ball.

IR:

98-Corey Peters—was having such a good camp. Hope he rebounds well for next year.

DE (5):

93-Calais Campbell—was outstanding, making plays left and right.

92-Frostee Rucker—hasn't flashed yet the way he did the second half of last year.

90-Cory Redding—was in on a couple of tackles, but hasn't show the pass rushing skills yet that the team wants and needs from him.

73-Josh Mauro---is playing well in the rotations.

91-Matt Shaughnessy—stopped the run well, which is his forte.

1st Man Out:

72-Ed Stinson—injury does not help his cause.

ILB (4):

20-Deone Bucannon---really fires the gaps well.

55-Sean Weatherspoon—headed to IR?

51-Kevin Minter—solid game, starting to lay some big hits.

59-Alani Fua---making strides as athletic inside LB in base and sub packages.

1st Man Out:

54-Kenny Demens—had one very good tackle on an inside run. Might still make the roster if Spoon remains out.

56-Glenn Carson—not getting reps over rookies

58-Edwin Jackson—had an excellent tackle on STs.

Sleepers:

47-Andrae Kirk---didn't see much from him this week.

50-Gabe Martin—Got beat once up the middle on out route by the RB, but then played tight coverage on a few other plays.

OLB (5):

57-Alex Okafor—was outstanding in this game.

44-Markus Golden—got pretty much stifled on his rushes in this game.

52-LaMarr Woodley—still gets a push on bull rushes, but not getting to the QB fast enough.

96-Kareem Martin—is running that TEX loop stunt very well. Had a better game this week.

97-Lorenzo Alexander—had a good tackle on one of the punt returns.

1st Man Out:

47-Shaq Riddick—did not run well at all. Looks like he is still hurt.

CB (4):

21- Patrick Peterson—5 targets, 3 catches for 80 yards. So much for the new and improved Peterson, at least in this lackluster performance.

25-Jerraud Powers—very active in coverage, but missed tackles on hitch passes.

28-Justin Bethel—did he play all that much?

35-Cariel Brooks—when players get stunning pick sixes in pre-season games, it usually means a roster spot. Brooks is getting it done.

1st Man Out:

46-Jimmy Legree—one of the better tacklers out there---he's inching his way back into roster consideration.

S (5):

32-Tyrann Mathieu—is getting the starts at FS and can double at CB when needed.

26-Rashad Johnson—solid.

22-Tony Jefferson—very physical and aggressive—is getting the start at SS with Bucannon inside. Coaches putting best players and tacklers on the field.

29-Chris Clemons---getting a good deal of playing time in sub packages and is looking solid in coverage.

41-Harold Jones-Quartey—had some textbook tackles in this game, including the tackle to end the game.

ST (3):

7-Chandler Catanzaro—missed a long FG well short the first time kicking off the infield dirt, but nailed one later.

82-Mike Leach—-good game this week.

9-Dave Zastudil---—looks like he is really fighting it out there. Not looking nearly as fluid as he was when he was right. There could be a punter acquired via trade or waivers---the coaches have to be concerned.

1st Man Out:

2-Drew Butler—had a 46 yard average a week ago keeps him in the chase

BA & SK Questions:

1. What to do about the QBs?
2. What to do about Weatherspoon?
3. What to do about OL struggles?
4. What to do about lack of edge pass rush?
5. What to do about CB depth?
6. What to do about punting struggles?
7. What to do about Massie, Niklas, C. Johnson, Gresham?
Last edited: