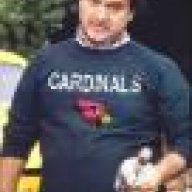 Hold onto the ball, Murray!
Joined

Dec 30, 2002
Posts

35,417
Reaction score

15,836
Location
I'm not sure saying the same thing with more words is an argument.

How exactly was "I wrong and failed to admit it" about Keim and Kliff's extensions when I said at the time they were bad and I've said this week that they were bad? How is this evidence of my "wrongness"?

I'm not sure what part of "It was a bad decision but all Orgs have a litany of bad decisions on their books" is wrong. You might have a different opinion. You might even be right. But we will never know and you certainly can't say that I'm wrong.

And I don't in any way think I'm right and anyone else is wrong, never mind everyone else. Never have I, or will I say someone else is wrong. You may have a different opinion, and I may strongly disagree, but that doesn't make either of us right or wrong. And I've said this a number of times.

If I had an opinion or a take on something that was so poor or weak that I had to change it it wouldn't have been well considered in the first place, and I try very hard not to do that. And if I defend my position against yours, well that's no different to what you are doing at the same time.

So no, you won't find me often say "Your right, my take was wrong and I now agree with you" but that isn't because I don't entertain that you might be right. I shouldn't really have to explain this on a DISCUSSION forum.

But the offer still stands. If you see something I say that is definitively wrong feel free to point it out.
...with you as the arbiter of "definitive," right?