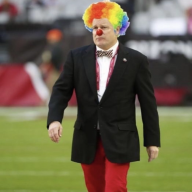 Joined

Feb 14, 2003
Posts

34,815
Reaction score

22,022
Location
There are two risks in firing someone:
1) There is no addition by subtraction and you hurt morale because everyone below them is now working harder
2) It's harder than you think to upgrade in the role
It's easy for fans to call for the coach's head because it eases the pain and embarrassment of the last (few) week(s). But it creates chaos inside the organization. Instead of everyone pulling together, people are panicked and splitting time between preparing for the next week and finding a lifeboat for next season.
I'm not worried much about #2 if and when Kliff Kingsbury is fired. I supported his hire and have believed in him since. At this point, though, the lots are cast. The relationship with Kyler Murray is probably irreparably broken, and Kyler is more valuable and a greater sunk cost than Kliff.
That said, there are 11 games left this season. If Kliff is fired you're looking at Cam Turner or Spencer Whipple as the offensive coordinator and playcaller. Do people really believe that Kliff is holding these guys back?
Also, who the heck is Kenny Bell?
You must be registered for see images attach
Zaven Collins, ILB
- Credit where it's due. Collins has been playing more and more snaps the past few weeks, but not making many splash plays. This week Collins cashed in with two sacks (one a full-effort cleanup on a broken play) and a pass defensed. It's easy to imagine him being the fourth- or fifth-best player on a quality unit by the end of the season.
Antonio Hamilton, CB
- Greased Lightning played 19 snaps and helped a defensive secondary hold DK Metcalf and Tyler Lockett to 4 receptions for 51 yards COMBINED. It was good to see him jawing with Metcalf late in the game. The secondary brings the attitude to this team and is the only group with earned swagger.
Zach Ertz, TE
- Hard to find bright spots in the offense right now, but Ertz is delivering on his contract extension. He wasn't targeted in the first half(!!!) but came alive when given real chances in the second, getting seven receptions for 70 yards. It's mystifying why he's not more involved in the red zone and freeing up the WR screen with a downfield block.
You must be registered for see images attach
Kyler Murray, QB
- I think Kliff Kingsbury was smart to put the ball in Kyler's hands for the first series. The opening field-goal drive featured nine plays, three of which were runs for Murray. Eno Benjamin also had two successful runs. It's hard to tell from watching the game tape, but I wonder how often Kyler makes the wrong decision on these read-options.
Rondale Moore, WR
- Rondale Moore played 70 snaps. Are you not entertained? It seems like most every play he wanders out to the sideline and waits to be Kyler's dump-off option. Maybe he's actually a dynamic playmaker out there, but it's really hard to make the argument that he is and the coaches just don't like big plays or getting yards.
Kliff Kingsbury, HC
- This is a results-oriented business. Let's check in on those results:
You must be registered for see images attach
Last edited: