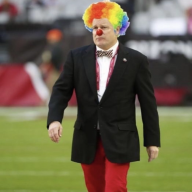 Joined

Feb 14, 2003
Posts

33,961
Reaction score

19,811
Location
It's hard for me to get a gauge on J.J. Watt hagiography. He was obviously an exceptional player, but the praise for him always had a concerning valence for me. I don't think he nurtured his image as a Great White Hope; he was just a big, humane dude. I don't know if I'm judging the Beastie Boys, Dave Matthews Band, and Rage Against the Machine based on their fans.
At a certain point, if you do it long enough, you become the role you portray. J.J. has a beautiful young family, and I wish him the best. What an amazing career.
You must be registered for see images attach
A.J. Green
- Congrats to the old man! It would be surprising to see Green improve on his three-catch, 91-yard, 1 TD performance, even if he had 17 chances at it next season. Great career, arguably a Hall of Famer. Nice job.
J.J. Watt
- Ignore the announcers and just watch the guy play. He's special, he knows what he's doing, and I hope that Leki Fotu and Rashard Lawrence learned as much from him as they could have the past two seasons.
Greg Dortch
- He's the slot receiver we need, if not the one we deserve. He was available for 17 games and came through almost every time time he got the chance, including catching all four of his targets and adding two rushes.
You must be registered for see images attach
David Blough
- It took one game for David Blough to turn back into the pumpkin he's been his entire career. 10 YPA looks pretty good, but half his yards came on the second play of the game to Green. After that TD, he was 12 for 16 for 100 yards with 2 INTs and a fumble lost. Hope the Cards learned what they needed to.
Marquise Brown
- Blough would have been helped by having a talented, engaged receiver as his first option. Instead, he had Hollywood Brown. Brown caught 25% of his gargets for seven yards. He's guaranteed a $15 million salary in 2023.
Isaiah Simmons
- The cover of the Arizona Cardinals 2022 season would be a split-screen of Simmons sacking Brock Purdy on 3rd and 12 alongside him following three yards behind George Kittle on an easy touchdown catch. It's so frustrating.