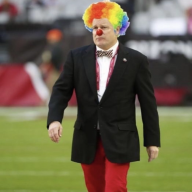 Joined

Feb 14, 2003
Posts

34,858
Reaction score

22,092
Location
I'm freaking bugged that
Pro Football Reference
has put up so many banners and auto play videos. This isn't some late Xer/Early Millennial bellyaching that The Internet Should Be Free. I don't even mind that they put some of their choicest tools behind a paywall (their player comparison engine was sick). But it's such an old-skool approach to profiteering. I wonder if they could make more money by just asking their users for $20 a year to keep the site healthy.
I don't even like Wikipedia and I cough that much up. The stat sites for NFL.com and ESPN.com are basically unusable. I'd rather be extorted then held hostage by bad ads whenever I wander over there or I just want to see the Cards drive summary.
You must be registered for see images attach
James Conner, RB
- The fumble kind of sucks, but at least it happened early and there was no result from it. Unfortunate that after his TD reception Conner had zero successful plays in five chances. Might've made a difference.
Zach Allen, DE
- The Chargers OL isn't very good, but Allen took advantage of their being bad by racking up a sack an four QB hits. Allen continues to impress — but is the rest of the NFL even noticing?
Kelvin Beachum, OT
- It's hard to evaluate this offensive line because their coach got handsy South of the Border and the Cards are doing a ton to protect this group. But I think that Beachum could be the worst player on a good OL. Unfortunately he's on this one.
You must be registered for see images attach
Kliff Kingsbury, HC
- People seem Big Mad about it, but I actually don't mind going for it on 4th down up three in the second quarter. I'm more upset that this team (coaches, players, and fans) just seemed to be going through the motions at home the week before the bye.
Isaiah Simmons, LB
- Like, is this guy even good? I know he put up a lot of stats, but every time the Chargers made a big play it seems like Simmons was trailing four yards behind the guy with the ball. I don't understand why he doesn't attend LB meetings.
Trey McBride, TE
- This dude just sucks right now. One reception on three targets for one yard yesterday. He's averaging 5.1 yards per reception this season (on 11 targets). He played 52 snaps (79% of the offensive snaps). Like, what is the point of this guy?