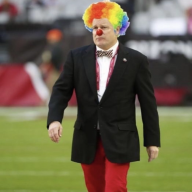 Joined

Feb 14, 2003
Posts

33,981
Reaction score

19,906
Location
Something very bad is about to happen with our Arizona Cardinals. Yes, the season is over and you're going to see a bunch of players (Byron Murphy, Zach Allen, Darrel Williams) make business decisions about their availability or start efforting outside the scheme because they need to put big film on tape or protect their bodies for pending free agency.
But also Michael Bidwill is entering the Expensive Money phase of his stewardship of the franchise. That dumb jet and even dumber helicopter won't pay for themselves, and the fuel won't get cheaper. Stadium upgrades will have to be financed at interest rates that are perhaps double what they were a few years ago. At the same time, attendance will likely decline because the on-field product is total garbage.
Under the past decade of Michael Bidwill's leadership, money was extremely cheap and the Cardinals could likely borrow whatever additional funding they needed secured by future earnings without paying much of a price. Now, Michael likely won't be as warmly received by his siblings if he comes asking to take out a loan to finance another round of signing bonuses or the severance packages for another group of coaches.
You must be registered for see images attach
Greg Dortch, WR
- He's not the featured receiver on a good team -- or even a bad one. What Greg Dortch can be is the kind of tremendous value as a fourth receiving option on a good offense -- think of Hunter Renfro or Cole Beasley. Dortch keeps producing when given even the smallest chance.
Colt McCoy, QB
- ESPN was doing everything it could to develop the narrative that the Cards are better with Colt and he should be the starter. Colt is marginally better than my guy Drew Stanton. He isn't going to be able to lead a good offense; the best he can probably do is get dragged along to a playoff berth by a great defense. The Cards don't have a great defense.
Marco Wilson, CB
- Marco was active again, leading the team with two passes defensed to go with three tackles. He's probably the best-developed defensive player that Keim has had since Budda Baker. Extend him for five years now.
You must be registered for see images attach
James Conner, RB
- Last week Conner made Football Outsiders' Top 5 RBs list for his efficiency. This week he averaged 3 yards per carry. He's just not a starting RB in the NFL right now. Especially when you fold in his 40% catch rate including a big 3rd down drop.
Lecitus Smith, G
- Kelvin Beachum is doing his best in an impossible situation. He has a rookie late-round pick playing on one side and no help from a TE on the other (because he's dedicated to helping Josh Jones and is also a rookie). The ESPN crew was throwing shade at the holes this offensive line has failed to open in the run game yearlong, but Smith failing to block an interior rusher was a stuff film.
Kliff Kingsbury, HC
- Kliff had a fine game plan through the first half. His playcalling was fine. He's a goat because at 13:14 in the fourth quarter and the Cards down 21 points, he elected to go for it on 4th down from the midfield line. The attempt failed. He should've sent Prater out to attempt the 67 yard field goal.