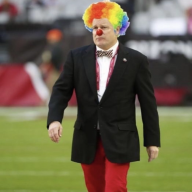 Joined

Feb 14, 2003
Posts

34,028
Reaction score

20,043
Location
The 17 game season is too long. Combined with the seventh playoff seed, it's devalued a big part of the regular season. The Packers are likely to make the playoff after a terrible start; the Giants had a torrid start and are resting starters at the end of the year because there's no way to qualify.

Maybe this is good and dramatic if your team doesn't suck. The past two seasons, the schedule has prolonged an agonizing collapse and drawn out a death March that begins before Halloween. Make it stop.

Heroes


David Blough

- Trace McSorely was a bad #3 QB. David Blough is a fine third QB that considering as a backup would make you ill. Still, nice work kid.

Trey McBride

- My adopted son had the best game of his career. There was a pretty bad drop, and he's had some giant hits that are concerning. But it sure looks like he can play in the NFL

Kliff Kingsbury

- The past few weeks the offense has looked professional, the offensive presnap penalties seem down, and the team has been playing tough despite every reason to quit. A lot of concern that he's giving Michael a reason to keep him around. If I were an NFL coach, I wouldn't hesitate to add Kliff to my staff.

Goats Hollywood Brown

- The difference between Brown and Christian Kirk is that Kirk struggles to be a feature wideout but can do a lot of complementary work. Brown looks comfortable in a feature role but gets listless as a second banana.

Greg Dortch - He's been so impressive this season that I'm not going to bury him over a rough game; this was kind of the guy we were expecting to see this year.

Vance Joseph

- you have to stop. This one was too close. We almost won the game with David Blough and Corey Clemons. You can't win a game with your running back is named Corey. That's just facts. We're trying to tank here; get with the program.