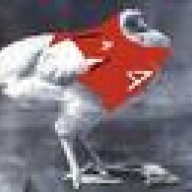 Joined

Oct 10, 2011
Posts

18,824
Reaction score

9,291
You've wanted Paul out of here since he got here, basically. I remember you crowing on about how the Suns would be foolish to retain him when he opted out his first year. Now he's the first defender you name that we should have kept?

Mikal is a loss, however I seem to recall you talking about his defense regressing the year he was dealt for KD when he had more of an offensive load.

We all know you have a man crush on Ayton. How well your Center defends on the perimeter isn't winning a championship anywhere. He was awful in the paint and often not invested mentally.

McGee and Biz? I seem to recall you regularly trashing McGee and ignoring Biz.

I'm not surprised you went negative now that Deandre is gone but I didn't expect you to go full on revisionist, ala 1Sun, to try and make the point we suck.
Ayton was actually really good at preventing the layup line we're seeing. He cuts off penetration before the rim and forces the offense to reset, it is something he does really really well.
Nurkic doesn't defend better than Ayton at any distance.
That said... Ayton quit on the team twice in two years, pretty unforgivable, but I wish we'd held off and tried to rehab his value under Vogel, instead of settling for a bunch of scraps.