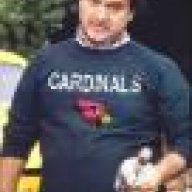 Hold onto the ball, Murray!
Joined

Dec 30, 2002
Posts

36,219
Reaction score

17,150
Location
You might be right about him failing but not about the Eagles firing him. They tried to offer him head coaching money to stay. The fans might have wanted him gone, but Howie Roseman and Nick Sirianni did not. I think the soft zone/no blitz defense Gannon ran with the Eagles will always be unpopular with fans, no matter how effective it is. Here's Sirianni defending Gannon back in January.


Sirianni basically says that Gannon's soft zone was the type of defense he asked him to run.

"When you're kind of getting on Gannon about the completions or something like that, I want you to get on me, it's what I want you to do, too," Sirianni told Cataldi. "My whole thing that I preach here is about winning the double positive. And what does that mean? Winning the turnover battle while also winning the explosive play battle."

But that is besides the point. Gannon is no longer a coordinator. What matters now is that he's smart, organized, and can motivate his players to play their best.
Oh man, I really, really hope it was all Sirianni's preference and that we don't run a soft zone/no blitz defense. I hate passive D, and we don't have the monster defensive personnel to make that approach anything other than a passive D. And we won't have the personnel for that for years.