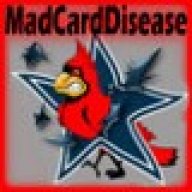 Moderator
Moderator
Supporting Member
Joined

May 13, 2002
Posts

19,360
Reaction score

10,325
Location
With most of the offseason behind us and Training camp coming into to view it's time to talk what to expect from the 2023 Cardinals. Obviously Wins will be in short supply in 2023. However winning has never been what 2023 was about the minute Kliff and Keim were fired. In the offseason we saw this "Card House" strpped down to the studs. This was no simple "Retool". It was a purge.

As usual I plan on attending a training camp practice or two this year. So what am I looking for as the Cardinals start training camp in 2023? Here is what I'm excited and hoping to see:

* This may sound silly but I'm excited to see a QB under center again.

* The first time I see a QB take the snap and execute a play action pass I might get teary eyed.

* Watching camp cupcake last year was very concerning for me. Half the team barely practiced if they practiced at all. I'm hoping to see every player on this team practicing like their job is on the line. A true culture change!

* I want to see a physical team. I want to hear some pad popping and players getting hyped over it. No more "Pretty Boy Football"!

* As always I'm excited to see what is happening at WR. How does Hollywood look after returning from injury? Who will be the second WR? Rondale? Pascal? Does Michael Wilson continue to impress?

* Will Kyler be out there throwing balls around? I know he won't be ready to run but will he be flicking balls to his receivers during the passing drills? Not even sure if that is possible at this point in his recovery.

* What does the defense look like? How are they lining up? Who is lining up where?


What are you all looking forward to seeing at Cards Camp 2023?