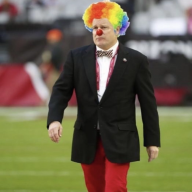 Joined

Feb 14, 2003
Posts

34,961
Reaction score

22,370
Location
Spending money on players just to spend is worse than inactivity.

You need to have confidence in the GM/HC to acquire the player talent. Most here didn't think we had the right ones.

Being bad allows you to greatest chance stockpile franchise altering talent.

We went from having the first overall pick to winning 5, 8, 11 games.

You know what's worse than being really bad? Winning 5-6 games every year without the top tier talent to turn things around. Just look at our record in the late 90s into late 2000s.

2000 - 3-13
2001 - 7-9
2002 - 5-11
2003 - 4-12
2004 - 6-10
2005 - 5-11
2006 - 5-11
2007 - 8-8

None of those years were were closing to having the #1 pick and it shows.
In 2003 we had the third overall pick in the draft and took Larry Fitzgerald, a hall of famer. What is your argument supposed to be?
The Kansas City Chiefs drafted perhaps the top franchise altering player in the NFL for the next decade with the 10th overall pick in the NFL draft. They traded up from the 27th overall pick in that draft in getting him. What is the foundation for your argument that you must be the worst team in the NFL in order to start competing?
The Cleveland Browns went 4-37 over three seasons and chose first overall in consecutive years in 2016 and 2017. They have one winning record, one playoff win, and zero finishes above 3rd in their division to show for it.
There are a lot of ways to build a winner in the NFL. Just because you understand and agree with how the Cards are doing it doesn't make it the right or lowest-risk option available.