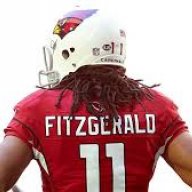 Crawled Through 5 FB Fields
Joined

Aug 10, 2005
Posts

13,405
Reaction score

2,982
Location
1. Activate T.J. Logan asap.

* Keep Carson Palmer on the roster as long as the Cardinals are still in playoff contention.

* If the Cardinals are ever going to place value on special teams, this is the move to make. The return game has been woeful.

2. Getting the Swag Back on Defense.

* if the Cardinals have learned anything from the first 7 weeks, it's that they do not have the personnel, nor the proper coaching, to be effective in zone coverages. It's time to get back to being all-out aggressive in man coverage. At the same time, the Cardinals have to find creative ways to pressure the QB. Getting Haason Reddick to develop a spin move would be big. He has the quicks, but he is getting pinned too high at the top of the pocket arc.

* Sticky man coverage would allow the Cardinals to cover the misdirection, bootleg passes---as Deone Bucannon did nicely in London. However, it is finally time for James Bettcher to insist on his edge linebackers to play contain. Against SF, rookie C.J. Beathard is going to run an array of bootlegs, waggles and sprint outs. He is good at throwing off the run. This will be an immediate test of how disciplined the Cardinals can be off the edge.

3. Improving the Offense.

* Hard counts. Stanton performed those well in pre-season. Get Stanton, Gabbert and all players ready to do whatever it takes to make the defense off-balance.

* Encouraging Stanton and Gabbert to beat pressure with their legs. This is something BA is loath to do, but is an absolute necessity, otherwise the QBs will remain sitting ducks. Good teams like it when their QBs extend plays. QBs always have the option to slide, which is better than getting hammered on a sack. This should be coached up and insisted on.

* Run an array of combo blocks, slip blocks (to the second level) and angle drive blocks out of 1 RB 3 WR sets (without motion)...the 2-3 TEs sets have not worked all year, neither has the predictable motion of Fitz or Jaron Brown down to the edge to block (plus, it gives the defense an advantage of knowing when the ball is going to be snapped). Spread the defense out more for AP. Less clutter, more bread and butter.

* Out of the 1 RB 3 WR spread use J.J. Nelson and John Brown more regularly on reverses.

4. Improving STs.

* Get T.J. Logan back.

* Work with Phil Dawson to focus solely on the kicking spot and his timing. He's reacting too much to the snaps and the pressure. He's better off blocking everything else out.

* Get the most out of Justin Bethel and Budda Baker as gunners, and get Scooby Wright, Rudy Ford, Brandon Williams, Elijaah Penny, Ifeanyi Momah, Brittan Golden and others to make statement tackles on kickoff and punt returns.

* Have Andy Lee focus more on hang time than distance. Set a goal for starting and keeping a 42 yard net average on punts.

5. Coaching.

* Defer the coin toss. This year it is better to try to pin the opposing offense deep on the first drive, put the offense in good field position for its first drive and, better yet, give them the ball back on offense to open the second half.

* If Stanton is struggling, do not hesitate to insert Gabbert. This could energize the team because Gabbert has a better arm and he is more athletic.

* Enough of giving the starting QB "all the snaps" during the week. This is just plain stupid. Backup QBs sure seem ready to play versus the Cardinals. Flip this trend. Do it through diligent preparation.

* Employ a fullback more often. Isolation blocks on inside linebackers and/or taking out first threat of penetration can give an explosive RB like AP that extra second to find the crease and bust through it.

* Develop some game plans catered for the specific opponent and what they can do to exploit the other team's weaknesses. Start giving the players a tactical advantage. Enough of this" "we do what we do." Do what it takes to give the players a competitive edge.

Sorry that some of this sounds frustrated, redundant and didactic. But, let's not give up hope and let's not "go gentle into that good night." Let's "rage, rage against the dying of the light." Come on Cardinals. Get your heads out of your beaks and start spreading your wings. Give us something to be proud of.