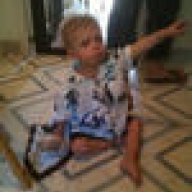 Joined

Oct 27, 2004
Posts

2,670
Reaction score

1,214
Super happy with this win. I think the Vikings played their best game and most other teams would have lost to them. But we also got incredibly lucky and there are some things I'd like to see going forward.


Offense
For the love of GOD, implement some pre-snap motion into the game plan! Depending on how the defense reacts to the motion, Kyler will be able to tell if it's Man or Zone. If he knows it's Man, then he knows the defense will have their backs to him and he can run it. This is one of my biggest issues with Kliff.

Get Murray under center more and run more play action. Our run game does not instill fear at all because it's so predictable and easy to see the RB get the ball in the shotgun. Chase and Conner are having to elude defenders 3 yards in the backfield as soon as they get the hand-off.

Design more runs for Murray. There were quite a few times today where if he ran it right away, he could have gained a lot of yards.

I liked how they got Max Williams involved. The TE allows us to run and pass out of play action and he's a much better receiver than I thought.

Get Rondale Moore involved more. This kid can put the jet sweep into our offense and also be a decoy. I think he's under-utilized but it's early.

Defense
BLITZ THE A GAP!!! I AM BEGGING YOU! Kirk Cousins (along with almost all QB's) is AWFUL when he has pressure in his face. Meanwhile, Simmons is rushing off the edge and Kirk is doing his best impression of Tom Brady getting the ball out over the middle within 3 seconds so any outside rush is completely ineffective. Spread out your rushers so the OT's have to spread out when the ball is snapped and send Buddha, Jalen, Simmons or whomever up the gut. Do it on run downs also and stop the RB before he gets a head of steam.

Put monetary incentives in the contracts of your defense for batted balls. It is so frustrating watching the DL get no push at all and then have passes sail over their heads.

ST's
Other than getting better at blocking on returns, I think we're pretty solid.

Coaching
Sometimes Kliff will run a play call that is brilliant but for the most part, I feel like Kyler bails him out a lot.

We all know the game management issues. Unreal the way he wastes time-outs.

Penalties – get in someone's face for once. Humphries is good for a drive killing false start per game. Light into him. Bench him for a series. Do SOMETHING.


Positives
The Vikings played probably the best game they will play all year and we still won.

Mike Zimmer's defense completely neutralized Nuk and forced Kyler to be a magician again.

Kirk Cousins was phenomenal today. He got the ball out quick to beat the rush and his throws were accurate.

Against any other team, I bet the Vikings win.


Concerns
We still can't run the ball. This is going to be a major issue down the road in games with bad weather.

We still struggle to stop the run. Again, this is going to come back to haunt us later this season.


A win is a win, but after the way we started and finished last year, I'm not crowning the Cards as having arrived.