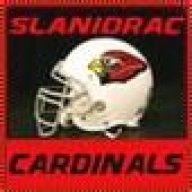 ASFN Icon
Supporting Member
Joined

Jul 11, 2002
Posts

13,880
Reaction score

11,996
Location
The cupboard is going to get restocked some. There will be a whole bunch of post draft cuts and cap casualties.

For example, Cordy Glenn will almost certainly be available. Riley Reiff is another potential casualty.
So you're saying draft a OT and use the extra money to bolster the defense. If you feel there is a OT in the draft that can step right in I'm starting to see how this makes sense.
I watched Simmons last night and he seems lanky. After the first quarter I didn't like the way Clemson used him. Chaisson on looked more dynamic but again is that because LSU unleashed him?
So many choice of roads to choose from. With Humphries turning down 11 m then it would be best to let him test the water.