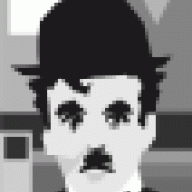 Joined

May 13, 2002
Posts

43,427
Reaction score

12,516
Location
I finally saw this last night, and I have to say, it improved from Part 1, but it still was all-in-all a bore.
And I know I'm in the minority and I do think she's a good actress, but I still think Jennifer Lawrence was a weak link here. I was sick of her "woe is me" depression throughout the entire part 1, I just hoped she'd snap out of it in Part 2 and become the badass symbol everyone thought she was.
Nope.
She moped the entire movie and even at the end with her children, she barely smiled.
I get she's a pretty depressing character, but that's not the kind of hero as an audience member you want to follow. Even if the reason Peeta's inclusion in the squad was weak, I thought he at least could kick ass against the Mutts. Katniss just had some cool arrows.
And then... everything ends. It's a world I didn't want to live in with Snow and it's a world I wouldn't want to live in with whoever that nameless actress was who finally became President.
I think average is about the best I can say this movie was.