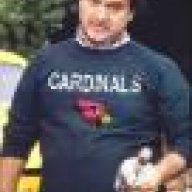 Hold onto the ball, Murray!
Joined

Dec 30, 2002
Posts

36,261
Reaction score

17,257
Location
Why would you pay good players decent money through a tank and not just sign similar good players when you're through the tank and have the money you just saved?

If we spend $20m on guys in a tank year that's $20m you don't have to carry over to spend on guys in 2024.

Why not just sign similar guys in 2024 AND have an extra $20m you didn't just waste?
Because signing 3-4 good FA starters in a given offseason is a much better way to build a cohesive roster that can work together than signing 6-8 good FA starters in one single offseason. This isn't Madden. Going hog wild all in one window and expecting it to be a good fit is a strategy roundly mocked that often fails.