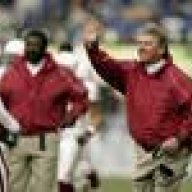 Joined

Sep 2, 2002
Posts

13,650
Reaction score

9,233
Right, but he does have a point: the Cardinals don't actually have much space this year and you have to sign players to replace them....so it's actually kind of pointless which is why it's not gonna happen.
It's not pointless though!!! We've been told here ad nauseum that we're rebuilding and desperately need a reset. Again - the moves so far don't indicate any sort of plan at all.
One thing that some people are missing in this equation is that the Cardinals do have to field a team this year.
Even if they're not trying, they do! At this point, whether it's Ertz or Conner getting those reps or a rookie/FA, what's the difference?
Conner is a flawed contract, sure, but he's not a terrible player. Ertz still has some value as well. Just let it play out naturally and they will both be gone likely in 2024.
Again - if you do that, you're missing out on an opportunity to clear cap space now vs. later. If we're going to be terrible regardless, don't you take your medicine now as opposed to these half measures that won't help and will cause us to still be terrible?