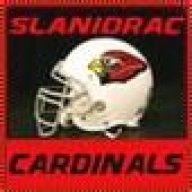 ASFN Icon
Supporting Member
Joined

Jul 11, 2002
Posts

14,327
Reaction score

13,077
Location
TheSnake4Life said:

isnt it kinda true though....as long as Bidwill as a theory that we support him no matter what, why would he want to change?

although.....this offseason does yield some promise....

but still...he may be saying some truth
How in the world can you say fans have supported Bidwill??? What all 25,000 of them? The onus is going to fall on the fans very shortly when this team finally turns it around.
Teams like the Cubs have been supported despite losing (until recently). They sell out every frickin game, win or lose , rain or shine.
I'm not able to hear the show but I can tell you this. THis guy is a stroke. Either that or he is intentionally trying to stir up the pot.