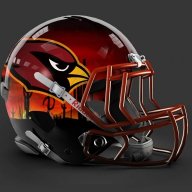 Stone Cold
Supporting Member
Banned from P+R
Joined

Mar 13, 2004
Posts

15,220
Reaction score

10,631
Location
opinions abound. I been thinking on this and I dont see a way he stays in Arizona. At least the chances are slim.

He has to win his way to staying and he has to do it with a poor compliment of supporting players... why?? Money.

Kyler got the bag... but he got the bag when the cupboard was basically bare of any serious talent. But sadly his contract isnt friendly to signing guys around him... interesting enough... his 37m base salary for 2024 became guaranteed on the fifth day of the league year this year...2023... and every years salary from here on out guarantees on the fifth day a year in advance... and much of his guaranteed money comes in the form of yearly 90 man roster bonuses.. so while he is well paid,... the contract has lots of flexibility for anyone trading for him... the biggest suck is, we take an 81mil cap hit next year...and we have to do it before the fifth day of the league year to avoid paying a 12m roster bonus.

if we suck...and texas suxx... we end up with two picks in the top 5 Kyler is gone....if we are decent, say... pick 8....but texas suxx... Kyler is gone. Just a guess but IMO any type of top 2 pick and he is gone. His best bet to stay here is that both we and the texans pick outside the top 5...so it is not easy for Monty to trade into a top 2 pick.

because IMO when being faced with a highly paid QB who has been up and down for 5 years and still hasnt proven he can carry a team through the playoffs...

or a rookie QB, one bad cap hit followed by a couple seasons of QB cost control.... I think Mike cuts his losses on Kyler, eats the cap hit and gives Monti a couple years to build around Maye or whoever

so if you really want to keep Kyler, you better be praying he is lights out and gets us near 7-10 while the Texans shock the world and win 6 or 8 also. Because if he plays well enough to get us to 5 or 6 wins and the texans suck...all he did was help his trade value.

what do you guys think?? If we end up with picks 2 and 5 or 6... is Kyler still here?? or is he gone?