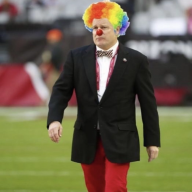 Joined

Feb 14, 2003
Posts

33,960
Reaction score

19,809
Location
I went to Sunday's game against the Eagles with my dad. His wife got COVID (she's fine) and was still testing positive. This is really the perfect time of year for game days in the Valley. The weather is perfect, the game starts early enough so you're having a good lunch on the tailgate (he picked up beef brats which went down easy but I'd never choose for myself), you can throw the ball around, and you're home in time for dinner.
The stadium was easily 40% full of Eagles fans. They were very polite and friendly, to my experience. They were also LOUD.
State Farm Stadium can be an absolutely rocking fan experience, but it hasn't been for me in a while. The Cards famously have lost eight straight after sleeping the night before in their own beds, but both the Chiefs and Eagles games have been sleepy affairs, and it's not sure the Cards really care.
The #birdcity campaign is so stupid that it's basically an insult to everyone. They moved the drumline to somewhere(??), so the stadium is asking you to focus on the TV and not on the field during the kickoff. And, the scoreboard lists the Cards first. Everyone knows that the home team scores comes second. WTH is going on?
It's funny because the Cards did a good job in this game, mostly. They were 5.5-point underdogs against an undefeated team and lost by three. The game came down to the last play. Arguably, this is the best game the Cards have had. But it wasn't fun to attend. Lifeless experience.
You must be registered for see images attach
Marquise Brown, WR
- Hollywood continues to impress. He had a bad and embarrassing drop, but he continues to move the chains and make good catches. With A.J. Green back in the fold, he also has started to see work out of the slot -- a likely preview of where he can be even more impactful once Hopkins comes back from suspension.
Byron Murphy, CB
- Hard to look better as a corner than 9 tackles, 3 for loss and half a sack. You'd love it if Murphy converted a couple more opportunities into turnovers, but A.J. Brown was held to just 32 yards receiving. An impressive showing. Murphy is making an argument to be the top free agent corner in 2023.
Zach Allen, DE
- Got another sack to go with eight tackles and 2 QB hits. Allen cannot and should not be the best player on a good defensive line, but he'll make an excellent Robin to someone's Batman. By the way, J.J. Watt played 55 snaps and that's too many.
You must be registered for see images attach
Leki Fotu, DT
- Back in the old Madden days there was a commentary were after a short yardage play John would say "When it's third down, you know it's about to be first down." It seems like Philly converted every third-and-short opportunity with a simple quick snap up the middle. Right into Fotu.
Zaven Collins, ILB
- Expectations for Collins have been lowered sufficiently that if he takes the field without tripping over his shoelaces someone will post a Twitter video on Thursday that's like "Zaven Collins really coming along now." Collins is a first-round pick playing like Kevin Minter. Played 100% of snaps without a splash play.
Kyler Murray, QB
- Sometimes it's fun to imagine what would have happened if Kyler hadn't been extended this offseason. Like, this is his big pitch to get a top-of-market extension. In the first drive of the game Kyler went with quick dumpoffs to Rondale Moore on consecutive downs before throwing a third short pass on 3rd and 9 to apparently no one.