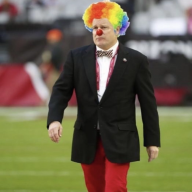 Joined

Feb 14, 2003
Posts

34,037
Reaction score

20,059
Location
So my youngest had another birthday party yesterday afternoon (the second in two weeks!). This time I played the smart game, dumped him off at the venue, and hustled over to the Casual Pint in South Chandler.
The NFL TV product has just gotten worse and worse. The in-stadium experience in a close game (or sometimes a blowout your team is on the right side of) is unmatched. But in the past few years I've found the live televised experience excruciating.
Part of it is that I have changed: EPL and Champions League soccer is a great live experience, including largely more interesting crowds, no commercial interruptions, and better announcing crews.
But part of it is that networks are under pressure to create as much advertising inventory as possible to justify the fees their paying to carry the games. And there aren't enough high-budget advertisers, so you see the same ads over and over again.
When I've been to bars that carry the NFL Today four-box program, the screen is so crowded with redundant score updates and nonsense that it's further unwatchable.
I'd probably DVR games and jump in an hour later and fast forward through all the nonsense, but the Cards have been bad and boring. It's a big ask to sit through two to three hours of bad ball in the hopes that we won't fall short at the end.
Heroes

Dennis Gardeck, OLB.
Gardeck's usage is strange. He played 20 defensive snaps and ended up with 5 tackles, a sack, and a pass defensed.
Zach Allen, DE.
Allen continues to make himself money. He got a sack, 3 passes defensed and six tackles yesterday. He's probably playing more snaps than you'd like (94%!), but the alternative is, like Jonathan Ledbetter. Yikes.
Marquise Brown, WR.
Brown only caught six of his 11 targets, but five of those targets resulted in first downs or touchdowns.
Goats

Rondale Moore, WR.
LOL. All that for seven net yards in six opportunities. Gotta get the ball in this guy's hands more.
James Conner, RB.
Averaged under 4 YPC in a win and added 3 receptions for 7 YPC. He's so washed, and it's hurting the team because he can't take the pressure off Kyler to stay ahead of the sticks. We're very bad right now on first-down offense.
Kyler Murray, QB.
Look at this sequence, man:
You must be registered for see images attach
People are going to blame Kliff for the problems on 3rd down, but Kyler's decisions to yeet the ball down the sideline on 3rd down and short are sometimes mystifying. Although he ended up 2-4 for 39 yards and a TD in this game where he went deep on third and short, so what do I know.