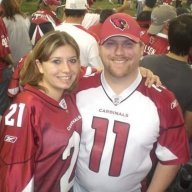 Joined

May 15, 2002
Posts

25,846
Reaction score

32,324
Location
Week 12 snaps in detail

Offense (54 snaps)

Drew Stanton - 54 (100%)

Andre Ellington - 39 (72.2%)
Stepfan Taylor - 15 (27.8%)
Robert Hughes - 5 (9.3%)

Michael Floyd - 45 (83.3%)
John Brown - 40 (74.1%)
Jaron Brown - 45 (83.3%)
Ted Ginn - 1 (1.9%)

John Carlson - 43 (79.6%)
Rob Housler - 22 (40.7%)
Matthew Mulligan - 10 (18.5%)

Jared Veldheer - 54 (100%)
Ted Larsen - 54 (100%)
Lyle Sendlein - 54 (100%)
Paul Fanaika - 54 (100%)
Bobby Massie - 54 (100%)
Jonathan Cooper - 5 (9.3%)

Defense (58 snaps)

Calais Campbell - 50 (86.2%)
Tommy Kelly - 45 (77.6%)
Dan Williams - 25 (43.1%)
Frostee Rucker - 30 (51.7%)
Kareem Martin - 5 (8.6%)
Josh Mauro - 22 (37.9%)

Larry Foote - 58 (100%)
Alex Okafor - 57 (98.3%)
Sam Acho - 26 (44.8%)
Kevin Minter - 16 (27.6%)
Marcus Benard - 1 (1.7%)

Patrick Peterson - 58 (100%)
Antonio Cromartie - 55 (94.8%)
Rashad Johnson - 58 (100%)
Deone Bucannon - 32 (55.2%)
Jerraud Powers - 33 (56.9%)
Tyrann Mathieu - 32 (55.2%)
Tony Jefferson - 25 (43.1%)

Trends

1-Since week 6 vs Washington, Powers, Mathieu, and Bucannon have all played within 8 snaps of each other in every game, and only two of those games over a 5 snap difference. There is a bit of a rotation going on, and I haven't been able to tell what it exactly is. They aren't always playing together, but they getting about the snap number of snaps.

2-Dan Williams played one of his higher snap % of the season this game. Not really a shock, but something to consider going down the stretch. He will continue to see more work.

3-Kareem Martin is back to obscurity. The Cardinals leaned on their vets along the defensive line this game, and then added in a little Josh Mauro (37.9%). I'm curious to see where the Cards go with Martin next year. I thought he wasn drafted as an edge rusher, but he hasn't really shown that this year.

4-Matthew Mulligan and Jonathan Cooper split 3rd TE/Jumbo package duties. I'm cutious to see if this continues.

5-Jaron Brown out snapped John Brown. I'm guessing that Jaron is better as a run blocker than John which is why this happened. The Cardinals also seemed to go with 3 WRs as Ginn only got one snap.

Thoughts

1-Josh Mauro showed why I thought he would be a good fit for the Cardinals in the draft. Long player who plays with good strength, and has long arms to disengage. Showed a little of his inexperience by getting burned on some read option keeps.

2-Okafor is getting better and better each week. We needs to finish better to become a consistent threat, but he creates pressure every week.

3-Tony Jefferson is a nice roster player, but he really struggles in coverage. The Cardinals seem to bring him in for run support, but teams seem to exploit him. He allows so much separartion that it makes completions easy. Nice player, but probably needs more of a special teams role.

4-This team really lacks a running game which is making it tough for the offense to stay on the field. The Cardinals really struggle to flip field position, and lean on the other team. That game yesterday felt like the field was tilted all day which is why I wasn't shocked to see the Seahawks score that late TD. It isn't just a RB issue, but the team needs interior OL help, TE help, and RB help.

5-It is tough to watch this offense because it is so poor at setting and maintaining a rhythm. It was bad with Palmer, and is even worse with Stanton. As the games start to come with greater stakes, the opportunities for big plays diminishes. The Seahawks dared Stanton to put together a drives, and he could not do so. It is something that will have to change if we want to have success in the playoffs.

6-The offseason is becoming even more interesting IMO. We have a championship level defense, and what is holding us back is our offense. As much as we have been clammoring for an edge rusher, that isn't what will keep us from the Super Bowl this year. You might be able to argue that the Cardinals just need to continue to add depth on defense, while they have more legitimate needs on offense. I don't necessarily believe that, but it is starting to become a legitimate arguement.

###

I'm still trying to figure things out regarding our offense in terms of personnel and needs. If you have other questions, let me know.