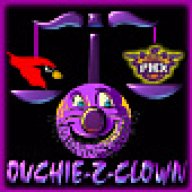 Joined

Sep 16, 2002
Posts

57,819
Reaction score

47,703
Location
For me any QB shirking on this stuff is a huge red flag and unlikely to ever be changed by coaching. This is something that has to come from within. If you haven't got it nobody can give it to you.

The NFL graveyard is littered with the bones of talented guys who just didn't have the self motivation to do the grunt work. And those that are great like JJ Watt and Brady are the ones that embrace the grind.

If Kyler thinks he can just do the fun bits and shirk the boring stuff then he's going to have a short career.

It can be fixed, but he has to have that realisation and change himself.
He has to make the decision himself but someone else can certain show him his deficiencies in a manner that is impactful. See Larry Fitzgerald and Todd Haley/whis.