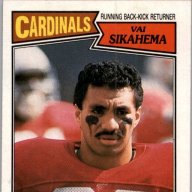 Joined

Dec 27, 2008
Posts

5,628
Reaction score

6,173
Location
I had fun watching the first half, but aside from draft pick implications, I don't see this as a great win for the rebuild.

Most of the main contributors on offense are not long-term pieces on this team. Guys like Dobbs, Conner, Hollywood and Ertz having solid games does nothing for the future. The offensive game plan in the second half was also abysmal. Kliff would have been killed around here if he ran the ball twice late in the fourth quarter of a tie game.

Undermanned or not, the defense gave up 31 points in a half, and again the main contributors probably won't be here long term. Gardeck is a great story and all, but he is a situational pass rusher who will turn 30 next year. He isn't nearly as important to the future as Cam Thomas or Ojulari, who were both essentially non-existent tonight. Clark had his moments, so at least that was good.

Overall, I guess the outcome is positive because we are one step closer to a top 5 pick next year, but I still don't get the plan outside of just losing as much as possible this year. The "rebuilding" part of the rebuild seems like it's missing.