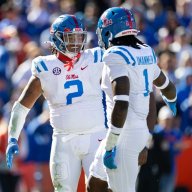 Joined

Jan 28, 2015
Posts

11,655
Reaction score

18,863
It is a deep draft class for OL, especially C.
The only thing deep about this OL is the C. Just the C.
I feel like I can add picks by trading some or all of Hopkins, Kyler and Brown. At worst I am adding 2nd and 3rd rounders.
So you wanna give our rookie QB with absolutely no talent at WR & banking on Day 2 & 3 rookies to make it easier for him.
rounders. I can fill a hole on the OL in FA without Kyler's contract long term...either Jawaan Taylor or Conner McGovern or Dalton Riser. I might be able to bring back Will Hernandez who was fine.
And then you want to add middling OL to an already extremely young & unproven Day 2 & 3 WRs for our young rookie QB.
The Colts failed because of their GM. We are counting on not having that problem.
You want Monti to basically be the Colts' GM. Investing in middling OL & use Day 2 & 3 capital to cover up for it.
You want a burger. You want the hamburger buns, but without the actual hamburger meat. Your mentality is lining up with Keim's despite you not wanting Monti be like Keim. You can't win this way.