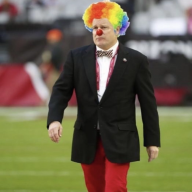 Joined

Feb 14, 2003
Posts

33,099
Reaction score

17,834
Location
the Kyler thing is a real wild card

the Cards are committed to him for the next two seasons at a minimum.

For the HC candidate, his outcomes are:

1. Kyler works. Hurray.
2. Kyler doesn't work, and he is out of a job after two years.
3. Kyler doesn't work, he still has a job, but no QB and a slug of dead cap money going forward.
The good news on 3 is that if that's the path you take, in two years he only carries $12.4 million in dead cap if released in 2025. That's an extremely manageable number, and he goes away 100% after that.
You can with most QB's in spurts. The question is can he do it consistently.

I've said it before but my biggest concern is Kyler having to learn a pro style offense with traditional verbiage and get 200+ plays down. Then, once he's done all that, apply all the checks at the LOS that are expected of a QB. Then once he's done all that, learn to accurately apply those brand new plays while using the options to adjust for what the defense is doing.

He's basically having to learn Chinese in 6 months after never speaking a word of anything but English.

And do all that while rehabbing from a serious knee injury.

I've posted this before, it's a great video and Cam is very good in it. I just struggle to see Kyler handling this for the first time at 26.

xc_hide_links_from_guests_guests_error_hide_media
Cam Newton is underrated for being awesome. He's a real-life kaiju. I believe the Broncos' shamefully targeting his head in the Super Bowl fundamentally altered the course of his career.
I think you mean 4K yards.

And he would have done so in 2020 if not being knocked out of most of the last game of season. He missed 3 games in 2021.

He averaged 248 YPG in 2020
He averaged 270 YPG in 2021

He only had 2 starting caliber wrs (at the same time) for 1 game in 2022.


Surprising from Chop. Keim level of advanced scouting.
Well, yes. Kyler's inability to stay healthy/productive as the season wears along is a fundamental problem or question about him.
In the fantasy world I live in, Kyler's thrown for 4500+ yards each season!
I'm not saying hide.

I'm saying take a page out of the Pete Carroll playbook. Bring Kyler along slowly. Play good defense and run the ball.
Yikes. It's crazy that the #1 Kyler Murray Advocate is now saying "Maybe just put him in a cage -- treat him like Jalen Hurts (only don't let him QB sneak!).
No - it's not. I explained why we can't have Kyler as a game manager. You can't afford superior talent around him with a big contract. Russ/Kap worked BECAUSE they were on rookie contracts. If Keim were a good GM, we would have followed the formula.

He was a leading MVP candidate just a year ago - he has the talent, it's a matter of whether or not he'll grow up and live up to his potential. HE'S NOT A GAME MANAGER.

Kyler is one person to fix - the rest of the roster needs lots of work, but a transcendent QB can cover up for a lot of flaws, as we saw in 2021.
Kyler was an embarrassing failure just a year ago, having posted an embarrassing playoff performance after collapsing down the stretch and backing his way into the postseason. We're 26 days away from the first anniversary of his agent's letter.
Its also funny that the most coveted coach Sean Payton (or at least top 2) was said to have loved Kyler Murray by Ian Rappoport.

Either its from people close to DeMeco or its possible Flores has said he's not interested. Either way seems we have other candidates heavily interested.
Copium, I guess.
If its Aaron Glenn I would guess Joe Lombardi would be OC. Assuming he doesnt go to Denver.
From the dude who is close to the Cards.

xc_hide_links_from_guests_guests_error_hide_media
I mean, for someone who parsed a tweet that you didn't like so closely, this is pretty clearly and literally Just One Man's Opinion.