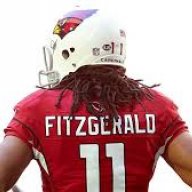 Crawled Through 5 FB Fields
Joined

Aug 10, 2005
Posts

13,405
Reaction score

2,982
Location
How this works: here is NFL.com's Top 101 FAs List.
I have put f-tags (bolded in red) on Houston, Bryant, D. Thomas, Pierre-Paul and McCourtey.
Budget: You get to pick ONE FA in the Top 20. TWO FAs from picks 20-50. And TWO FAs from picks 51-101. You may also add TWO bargain FAs that are not on this list. Then---you get to make your own Cardinals' draft using the rankings (CBS) listed after the FAs---the top players available at Picks 1-5.
Tier 1: Difference-makers
1. Ndamukong Suh, DT, Detroit Lions: Outside of quarterbacks and the two unanimous All-Pros (J.J. Watt, Rob Gronkowski), Suh and Odell Beckham are the two unique talents around whom we would most like to build a franchise. A double-team defeater against the run as well as the pass, Suh is on a Hall-of-Fame career path. He holds all of the leverage in contract talks, as his franchise tag number is a prohibitive $26.7 million.
2.
Justin Houston, OLB, Kansas City Chiefs
: Houston, 26, came within one sack of breaking Michael Strahan's single-season record last season. He has averaged a league-best 1.2 sacks per game over the past two years. One of our favorite obscure stats: Houston has committed zero penalties over that same span compared to 20 for Jerry Hughes. The Chiefs will apply the franchise tag if necessary.
3.
Dez Bryant, WR, Dallas Cowboys
: It's a testament to Bryant's NFL-best red-zone efficiency and bodacious run-after-catch ability that he has led the league with 41 touchdowns over the past three years despite a limited route tree. NFL Media Insider Ian Rapoport has reported the franchise tag is almost a certainty because the Cowboys still have reservations about Bryant's off-the-field behavior.
4.
Demaryius Thomas, WR, Denver Broncos
: For defensive backs there might not be a scarier sight than Thomas screaming off a bubble screen, all power and speed with eyes on the end zone. A model of consistency, Thomas has averaged roughly 100 receptions, 1,500 yards and 12 touchdowns per season since Peyton Manning arrived in 2012. The Broncos won't let him reach the market.
5.
Jason Pierre-Paul, DE, New York Giants
: Finally free from nagging back pain, Pierre-Paul rounded into shape last year. More of a run-stuffer early in the first half of the season, he started torturing offensive tackles in November, recording nine sacks in the final five games. The Giants are fully expected to keep him via the franchise tag.
6.
Devin McCourty, S, New England Patriots
: The converted cornerback is not only one of the NFL's best coverage safeties, but also a respected leader on the Super Bowl champions' defense. McCourty, 27, considers New England home and wants to stay, by way of the franchise tag or a long-term deal.
7. Julius Thomas, TE, Denver Broncos: The two-time Pro Bowl selection isn't much of a blocker and has struggled with ankle injuries in multiple seasons. Those concerns are trumped by a rare skill set as a mismatch creating space in the middle of the field, excelling after the catch and posting up in the red zone. Thomas is a difference-making talent in the prime of his career. There will be plenty of demand if he hits the market, as expected.
8. Randall Cobb, WR, Green Bay Packers: With Wes Welker in decline, Percy Harvin an annual enigma and Victor Cruz injured, Cobb is the NFL's undisputed slot king entering the 2015 offseason. He's a punt returner after the catch and has a mind meld with Aaron Rodgers on broken plays. If the Packers are serious about a Super Bowl run, Cobb must be re-signed.
9. DeMarco Murray, RB, Dallas Cowboys: Murray was a tackle-breaking monster for the first three months of the season en route to Offensive Player of the Year honors. The No. 1 concern for potential suitors isn't the benefit of the Cowboys' dominant offensive line. It's that Murray was saddled up for a back-breaking 497 touches. He wasn't as elusive in December and January. If Dallas applies the tag to Bryant, Murray could be set free.
Tier 2: Impact Starters
10. Jerry Hughes, DE, Buffalo Bills: Hughes has averaged 10.0 sacks and 40 quarterback hurries over the past two years -- numbers that place him just below Pro Bowl level. How much of that production is the result of feasting on easier matchups provided by the presence of dominant talents such as Marcell Dareus, Kyle Williams and Mario Williams?
11. Mike Iupati, G, San Francisco 49ers: He has been among the best maulers in the run game at guard in the entire league throughout his career. But Iupati is not great in pass protection and isn't coming off his best season.
12. Greg Hardy, DE, Carolina Panthers: Hardy is not available to be signed until he comes off the Commissioner's Exempt List, and he could be facing further suspension. But his talent, production and age are worth ranking in the top five here. Someone will give him a chance.
13. Byron Maxwell, CB, Seattle Seahawks: He's the best option in a relatively thin cornerback crop. That makes him a candidate to be overpaid, but he'd fit well with former Seahawks assistants Gus Bradley or Dan Quinn.
14. Torrey Smith, WR, Baltimore Ravens: Speed kills. Smith has averaged nearly 17 yards per catch for his career and regularly draws long pass interference penalties. Just don't expect him to be a true No. 1 receiver.
15. Jason Worilds, LB, Pittsburgh Steelers: He doesn't always finish plays with sacks, but Worilds consistently pressures the quarterback. He will get paid.
16. Pernell McPhee, OLB/DE, Baltimore Ravens: He can rush standing up from the outside or play defensive tackle. But plenty of Ravens defenders have struggled away from Baltimore.
17. Jeremy Maclin, WR, Philadelphia Eagles: He might not be as productive away from Chip Kelly's system. We suspect Kelly won't let him get away.
18. Nick Fairley, DT, Detroit Lions: A boom-or-bust pickup, Fairley can be one of the best at his position when motivated.
19. Bryan Bulaga, T, Green Bay Packers: In a tackle-thin market, Bulaga offers rock solid starter status on the right side.
20. Jared Odrick, DT, Miami Dolphins: Quality, versatile defensive line starters are not easy to find in free agency.
21. Terrance Knighton, DT, Denver Broncos: One of the NFL's premier run-stuffers, Knighton has played for new Raiders coach Jack Del Rio in every one of his six seasons. He's a better scheme fit in Oakland than Denver.
22. Rodney Hudson, C, Kansas City Chiefs: There are whispers that Hudson's goal is to become the NFL's highest-paid center. We aren't quite as high on him as we were on Alex Mack last year.
Tier 3: Starters with questions
23. Brandon Graham, DE/OLB, Philadelphia Eagles: Best suited as a defensive end in a 4-3 defense, Graham has been a highly effective rotational pass rusher as an outside linebacker in Philly's 3-4 scheme. Wesseling prefers him to Worilds.
24. Derrick Morgan, DE, Tennessee Titans: Much like Graham, Morgan gets more pressures than sacks. He's also best utilized as a defensive end in a 4-3 scheme. He went to college in Atlanta. It's no secret that the Falcons' top need is pass rusher.
25. Brandon Flowers, CB, San Diego Chargers: Flowers is looking down the barrel of age 30, is too often nicked up and has size limitations that will scare off some teams. On the flip side, he played at a high level in bounce-back season last year.
26. Brian Orakpo, OLB, Washington Redskins: Prior to getting hit with the franchise tag early last March, Orakpo held down a top-10 spot on our list -- only to go down with his third career torn pectoral injury. The Falcons were reportedly hot on his trail at this time in 2014.
27. Kareem Jackson, CB, Houston Texans: After struggling early in his career, Jackson has developed into a solid starter capable of playing inside and outside. He's tight with Vance Joseph, the Bengals' esteemed defensive backs coach.
28. Mark Ingram, RB, New Orleans Saints: Still just 25 years old with little tread on his tires, Ingram should attract plenty of interest on the heels of a breakout 2014 season. The cap-strapped Saints can't afford a back of his caliber.
29. Michael Crabtree, WR, San Francisco 49ers: Crabtree denied playing through a foot injury last season, but the game film suggests otherwise. Any team signing him will have to hope he can recover the impressive pre-Achilles tear form that helped propel the 49ers into Super Bowl XLVII.
30. Ryan Mathews, RB, San Diego Chargers: While injury prone, Mathews is one of the hardest-running early-down backs in the league. He's a perfect player to pair with a pass-catching back in the draft.
31. C.J. Spiller, RB, Buffalo Bills: Chris Wesseling wanted to rank Spiller much higher, but "peak Spiller" has only come out once in five seasons. He's a great complementary part, not a foundation to build around.
32. Charles Clay, TE, Miami Dolphins: More of a versatile H-back than a big-bodied tight end, Clay is reportedly seeking $6 million annually. The Dolphins want to keep him, but they'll have competition from the Bills and others.
33. Jabaal Sheard, DE, Cleveland Browns: Often overlooked and overrated, Sheard can provide solid starter snaps at a reasonable price.
34. Orlando Franklin, G/T, Denver Broncos: He excelled as a guard last season, and Franklin's versatility to help out at right tackle will earn him money in a thin offensive line market.
35. Chris Culliver, CB, San Francisco 49ers: He hasn't been the most consistent player throughout his career and he previously suffered a torn ACL, but Culliver has loads of talent. He's coming off a strong season and has a high ceiling.
36. Rahim Moore, S, Denver Broncos: Forget that play against Baltimore. Moore has developed into a quality starting safety, and he's only 25 years old.
37. Dan Williams, NT, Arizona Cardinals: Williams has improved every season since getting taken in the first round during the Whisenhunt/Graves era. There are way more 3-4 defenses in the NFL than there are true nose tackles like Williams.
38. Jordan Cameron, TE, Cleveland Browns: If this list came out a year ago, Cameron would have ranked in the top 15 because he's a matchup nightmare. Concussion woes now jeopardize Cameron's future.
39. Frank Gore, RB, San Francisco 49ers: The Inconvenient Truth can still block, catch and turn a 1-yard stuff into a 4-yard gain like a boss. He's a nice veteran short-term pickup for a team seeking a title.
40. B.J. Raji, DT, Green Bay Packers: 2013 was an off year. 2014 was an injury year. The talent is there, but it's been a while since we've seen it.
41. David Harris, LB, New York Jets: Harris is on the wrong side of 30, but he's reportedly drawing interest from the Bills, Dolphins, Bears and Falcons, in addition to the Jets.
42. Stefen Wisniewski, C, Oakland Raiders: Wisniewski is a solid starter in his prime. So why are the Raiders being linked to Hudson as his replacement?
43. Davon House, CB, Green Bay Packers: House is seeking a starting job after four years as a sub-package corner in Green Bay. Don't be surprised if the Packers re-sign him and allow Tramon Williams to walk.
44. Tramon Williams, CB, Green Bay Packers: Williams was an above-average starter last season, but he turns 32 years old next month. He will have to settle for a short-term contract.
45. Stephen Paea, DT, Chicago Bears: The Bears have struggled up front against the run, but Paea did emerge as a disruptive pocket pusher last season.
46. Henry Melton, DT, Dallas Cowboys: A Rosenthal favorite, Melton was effective for the majority of last season as an interior pass rusher.
47. Brandon Spikes, LB, Buffalo Bills: Spikes has a niche skill-set as a premier two-down run-stuffer.
48. Antonio Cromartie, CB, Arizona Cardinals: Still a quality starter, Cromartie seems likely to follow Todd Bowles to New York for a reunion with the Jets.
49. Sean Weatherspoon, LB, Atlanta Falcons: Weatherspoon was the Falcons' top defender before Lisfranc, knee and Achilles injuries limited him to 20 of a possible 48 games over the last three seasons.
50. Cecil Shorts, WR, Jacksonville Jaguars: Similar to Miles Austin a few years back, Shorts is a strong after-the-catch threat whose explosiveness has been sapped by lingering soft-tissue injuries. Word around the campfire is that he is interested in a Cleveland homecoming.
51. Shane Vereen, RB, New England Patriots: The Gronk generation's answer to Kevin Faulk in New England, Vereen is basically a younger version of Reggie Bush at this point.
52. Antrel Rolle, S, New York Giants: The weekly hot takes on his radio appearances are more consistent than his pass coverage.
53. Doug Free, T, Dallas Cowboys: Notice how there are only right tackles available in free agency?
54. Rolando McClain, LB, Dallas Cowboys: Does any team want to bet on lightning striking twice without any more drama? McClain probably has more value to the Cowboys than any other team.
55. Perrish Cox, CB, San Francisco 49ers: Something is in the water in San Francisco, where the 49ers have coached up a lot of cornerbacks to career years. Cox played like a Pro Bowl pick for much of last season.
56. Clint Boling, G, Cincinnati Bengals: True starting guards like Boling usually get paid big money on the open market.
57. Jake Locker, QB, Tennessee Titans: Accuracy and durability are issues, but Locker has a higher ceiling than any of the other quarterback options in free agency. At best, he should compete to start.
58. Justin Forsett, RB, Baltimore Ravens: Don't expect a big contract after Forsett's big season, but he's a nice fit for any team running zone blocking.
59. Da'Norris Searcy, S, Buffalo Bills: With few quality safeties out there, Searcy looks like a smart value pickup.
60. Joe Barksdale, T, St. Louis Rams: You can plug him in to start at right tackle.
61. Kenny Britt, WR, St. Louis Rams: The good: Britt established a career-high with 48 receptions last season. The bad: He topped 70 yards in just two games.
62. James Carpenter, OG, Seattle Seahawks: Too often a liability in pass protection, Carpenter hasn't lived up to his first-round draft pedigree.
63. Stephen Gostkowski, K, New England Patriots: Gostkowski has led the NFL in field goals over the past two seasons, converting an impressive 93.6 percent.
Tier 4: Needs the right role
64. Ryan Mallett, QB, Houston Texans: Here's what we know about Mallett: He has an impressive whip; the Patriots gave him away for a sixth-round draft pick; it took him three months to unseat Ryan Fitzpatrick; coach Bill O'Brien protected him with an outstanding game plan in his first start; he went down with a season-ending injury in his second start.
65. Justin Blalock, G, Atlanta Falcons: He has been a solid starter throughout his career, but is on the wrong side of 30. He'll have suitors.
66. Walter Thurmond, CB, New York Giants: Thurmond was a highly effective slot corner in 2013, but that is the only season in which he has stayed healthy.
67. Buster Skrine, CB, Cleveland Browns: Playing opposite Joe Haden, Skrine has been targeted more than any cornerback in the league over the past two years. At 5-foot-9 and 185 pounds, he might be viewed as an inside corner on the open market.
68. Mark Sanchez, QB, Philadelphia Eagles: At one point last season, Sanchez had joined Andrew Luck, Aaron Rodgers, Tom Brady and Peyton Manning as the only quarterback overseeing an offense that averaged more than 30 points and 400 yards per game. Then he reverted into one of the game's most mistake-prone signal-callers with the season on the line.
69. Kendrick Lewis, S, Houston Texans: Lewis salvaged his value by emerging as one of the most consistent defensive backs in Houston after a subpar showing with the Chiefs in 2013.
70. Brian Hoyer, QB, Cleveland Browns: If the goal is to hold the fort for a raw rookie, teams could do a lot worse than Hoyer. If the goal is to contend for the playoffs with Hoyer under center, his limitations will be exposed -- just as they were down the stretch last season.
71. Mason Foster, LB, Tampa Bay Buccaneers: Foster didn't fit Lovie Smith's defense, but looked like a decent young starter in 2013. Perhaps he could join old friend Raheem Morris in Atlanta.
72. Dwight Freeney, LB/DE, San Diego Chargers: Freeney is strictly a situational pass rusher now, although he can still be effective.
73. Reggie Bush, RB, Detroit Lions: For the right price (one-year, $3.5 million), Bush can still help teams as a passing-down threat.
74. Bruce Carter, LB, Dallas Cowboys: Carter makes plenty of big plays, but he gives them up as well.
75. Cory Redding, DE, Indianapolis Colts: Aside from Vontae Davis, Redding was outplaying anyone on the Colts' defense in the playoffs last season.
76. Brooks Reed, LB, Houston Texans: Peter King once predicted Reed would win Defensive Player of the Year. That should be worth something.
77. Kendall Langford, DT, St. Louis Rams: Quality rotation defensive linemen are not easy to find. Langford was only cut because he was paid big money and was backing up Aaron Donald.
78. Jermaine Gresham, TE, Cincinnati Bengals: He's a below average starter and an above average backup.
79. Rey Maualuga, LB, Cincinnati Bengals: Marvin Lewis' defense struggled without Maualuga and instincts last year. He's a decent bet to return.
80. Jarvis Jenkins, DE, Washington Redskins: Jenkins never made the leap as a second-round draft pick billed as the prototype 3-4 defensive end.
81. Mike Adams, S, Indianapolis Colts: Adams exceeded expectations as a late-period free-agent signing, solidifying the back end of the Colts' defense. Will there be much interest in a 34-year-old safety?
82. Akeem Ayers, LB, New England Patriots: Ayers played a key role for the Super Bowl champions after the 2-14 Titans couldn't find a spot for him.
83. Hakeem Nicks, WR, Indianapolis Colts: Nicks regained a semblance of his playmaking form down the stretch last season, but the Colts didn't think highly enough of him to bench an obviously struggling Reggie Wayne.
84. Karl Klug, DE, Tennessee Titans We see Klug as a situational pass rusher who could surprise with six to eight sacks in a 4-3 defense like Seattle's.
85. Barry Cofield, DT, Washington Redskins: He's coming off an injury-plagued season, but run stuffing nose tackles are very hard to find.
86. Stevan Ridley, RB, New England Patriots: Ridley is an interesting power back, albeit one coming off ACL surgery.
87. Roy Helu, RB, Washington Redskins: Helu might have overtaken Pierre Thomas as the best screen-pass specialist in the league last year.
88. Ahmad Bradshaw, RB, Indianapolis Colts: Bradshaw is effective whenever he plays. Unfortunately, that seems to be roughly a half-dozen times per year. One of the most hard-charging backs in the league has been betrayed by his lower legs.
89. Darnell Dockett, DT, Arizona Cardinals: Anyone signing Dockett will get a great Twitter account, but he's going to be a part-time player coming off ACL surgery.
90. Ahtyba Rubin, DT, Cleveland Browns: Rubin once had a reputation as a premier run-plugger. The Browns had the league's worst run defense in 2014.
91. Adrian Clayborn, DE, Tampa Bay Buccaneers: The No. 20 overall pick in the 2011 NFL Draft ended up playing just 36 games in four years with the Bucs. Even when healthy, Clayborn hasn't been disruptive as a pass rusher.
92. Charles Tillman, CB, Chicago Bears: Former coach Marc Trestman believed that Tillman was playing at a Pro Bowl level early last season. On the other hand, Tillman is a 34-year-old cornerback coming off a second torn triceps injury.
93. Lance Briggs, LB, Chicago Bears: The seven-time Pro Bowl selection isn't going to hang with tight ends in coverage in his mid-thirties, but he can still provide solid run defense with a move inside if the Bears opt to bring him back for a 13th season.
94. Rob Housler, TE, Arizona Cardinals: Housler is one of the NFL's speediest tight ends, but Bruce Arians doesn't have any use for that species if they don't block. He needs a change of scenery.
95. Denarius Moore, WR, Oakland Raiders: A perennial tease.
96. C.J. Mosley, DT, Detroit Lions: A late bloomer, Mosley is coming off the most effective season of his 10-year career.
97. Patrick Robinson, CB, New Orleans Saints: An oft-burned first-round draft bust through four seasons, Robinson was noticeably stingier in coverage last year.
98. Ron Parker, S, Kansas City Chiefs: A career special teamer, Parker started 15 games last season, splitting his time between cornerback and safety. That versatility has value.
99. Anthony Spencer, DE, Dallas Cowboys: Returning from microfracture surgery, Spencer struggled to make an impact before coming on in late December.
100. Brian Hartline, WR, Miami Dolphins: He had two recent 1,000-yard seasons and he's not yet 30, but Hartline is best used as a third receiver.
101. Michael Vick, QB, New York Jets: We still believed Vick could help a team last offseason, but his heart didn't seem to be in the one-year Jets stint.
Arizona Cardinals' Draft Pick Round 1 #24
24 *Dorial Green-Be WR Oklahoma 6-5 237
25 Owamagbe Odig DE UCLA 6-3 267
26 Cameron Erving C Florida St. 6-5 313
27 *Marcus Peters CB Washington6-0 197
28 *Maxx Williams TE Minnesota 6-4 249
29 Kevin Johnson CB Wake Fore 6-0 188
30 *Jordan Phillips DT Oklahoma 6-5 329
31 *Eddie Goldman DT Florida St. 6-4 336
32 *Shaq Thompson OLB Washington 6-0 228
33 *Breshad PerrimanWR UCF 6-2 212
34 Quinten Rollins CB Miami (Ohio)5-11 195
35 *Eli Harold OLB Virginia 6-3 247
36 *Danielle Hunter DE LSU 6-5 252
37 Eric Kendricks ILB UCLA 6-0 232
38 *Arik Armstead DT Oregon 6-7 292
39 *Sammie Coates WR Auburn 6-1 212
40 *P.J. Williams CB Florida St. 6-0 194
41 *Brett Hundley QB UCLA 6-3 226
42 Jake Fisher OT Oregon 6-6 306
43 Hauoli Kikaha OLB Washington 6-2 253
44 A.J. Cann OG South Car. 6-3 313
45 Devin Smith WR Ohio State 6-0 196
46 Ameer Abdullah RB Nebraska 5-9 205
47 Nate Orchard DE Utah 6-3 250
48 Carl Davis DT Iowa 6-5 320
49 Laken Tomlinson OG Duke 6-3 323
Arizona Cardinals Draft Pick Round 2 #52
52 *Jalen Collins CB LSU 6-1 203
53 Reese Dismukes C Auburn 6-3 296
54 *Nelson Agholor WR USC 6-0 198
55 Michael Bennett DT Ohio St. 6-2 293
56 *Duke Johnson RB Miami 5-9 207
57 Paul Dawson ILB TCU 6-0 235
58 Ty Sambrailo OT CSU 6-6 311
59 Rashad Greene WR FSU 5-11 182
60 Clive Walford TE Miami 6-4 251
61 *Tevin Coleman RB Indiana 5-11 206
62 *Devin Funchess WR Michigan 6-4 232
63 Cody Prewitt FS Ole Miss 6-2 208
64 *Mario Edwards DE FSU 6-3 279
65 Tre' Jackson OG FSU 6-4 330
66 David Johnson RB No. Iowa 6-1 224
67 *Alex Carter CB Stanford 6-0 196
68 Lorenzo Mauldin OLB Louisville 6-4 259
69 Preston Smith DE Miss St. 6-5 271
70 *Xavier Cooper DT WSU 6-3 293
71 Anthony Harris SS Virginia 6-1 183
72 Daryl Williams OT Oklahoma 6-5 327
73 Steven Nelson CB Oregon St. 5-10 197
74 Denzel Perryman ILB Miami 5-11 236
Arizona Cardinals Round 3 Pick #86:
86 *Jesse James TE Penn State 6-7 261
87 *Kwon Alexander OLB LSU 6-1 227
88 Josh Shaw CB USC 6-0 201
89 David Cobb RB Minnesota 5-11 229
90 Jaquiski Tartt SS Samford 6-1 221
92 Damarious RandalFS ASU 5-11 196
93 Gabe Wright DT Auburn 6-3 300
94 John Miller OG Louisville 6-2 303
95 Za'Darius Smith DE Kentucky 6-4 274
98 Davis Tull OLB Chattanoog 6-2 246
99 Justin Hardy WR East Car. 5-10 192
100 *D.J. Humphries OT Florida 6-5 307
101 Marcus Hardison DT ASU 6-3 307
102 *Mike Davis RB South Car. 5-9 217
103 *Ronald Darby CB Florida St. 5-11 193
104 Garrett Grayson QB CSU 6-2 213
105 Ben Koyack TE ND 6-5 255
106 Anthony Chickillo DE Miami 6-3 267
107 Tony Lippett WR MSU 6-2 192
108 B.J. Finney C Kansas St. 6-4 318
109 *Gerod Holliman FS Louisville 6-0 218
110 *Donovan Smith OT Penn State 6-6 338
111 Lynden Trail DE Norfolk St. 6-7 269
Arizona Cardinals Round 4 Pick #120:
120. J. Matias, G, FSU
121. G.Jarrett, DT, Clemson
122. J. Crowder, WR, Duke
123. I. Campbell, SS, Northwestern
124. H. Anderson, DE, Stanford
125. C. Reed, DE, Texas
126. N. O'Leary, TE, FSU
127. S. Golson, CB, Ole Miss
128. S. Anthony, ILB, Clemson
129. C. Artis-Payne, RB, Auburn
130. J. Heuerman, TE, Ohio St.
Arizona Cardinals Round 5 Pick #151:
151. J. Douglas, G, ASU
152. K. Eulis, DT, Miss. St.
153. A. Shepherd, T, Alabama
154. J. Cox, CB, Miss. St.
155. J. Fowler, FB, Alabama
156. Z, Hodges, OLB, Harvard
157. L. Doss, CB, Tulane
158. J. Harper, WR, Fresno St.
159. D. Anderson, WR, Utah
160, R. Drew, DE, Georgia
161. B. Heeney, ILB, Kansas
162. J. Ryan, ILB, Michigan
163. J. Mbu, DT, Houston
169. T.Varga, RB/FB, Yale
171. N. Boyle, TE, Delaware
172. S. Mason, G, Georgia Tech.
173. R. Hall, WR, UCF
Your Picks Are:
FA #1 (Top 20): ____________________________
FA #2 (20-50):____________________________
FA #3 (20-50): ____________________________
FA #4 (51-100): ____________________________
FA #5 (51-100): ____________________________
FA #6 (not listed): __________________________
FA #7 (not listed): __________________________
Your Picks: Cardinals Draft
Round 1 #24: ______________________________
Round 2 #52: ______________________________
Round 3 #86: ______________________________
Round 4 #120: _____________________________
Round 5 #151: _____________________________
For every pick you make that happens to be a BASK pick, you get 10 points. The poster with the most points will win a brand new New Era Cardinals hat, sent to you by me.
See it here:
http://images.footballfanatics.com/...roductImages/_1706000/ff_1706642_xl.jpg&w=600
I am fascinated to see your picks. I will post mine shortly.