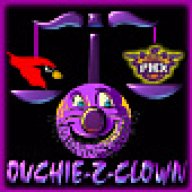 I'm better than Mulli!
BANNED BY MODERATORS
Joined

Sep 16, 2002
Posts

54,456
Reaction score

42,044
Location
Another example of how darn old I have gotten. When I wrote the beginning epitaph, I had forgotten all about pre-FA. That was certainly a main factor of why your team's players seemed more like 'your guys.' Thx for reminding me of such an obvious variable.

And thanks to everyone who felt like joining this discussion. I wasn't sure my thread would get any response or looked upon as having any interest or merit. Sometimes I just start thinking about something and feel the need to start writing it down and see where it takes me. Often when re-read it, it is like I hadn't written it and was 'hearing it for the first time. Not to mention the desire to answer or respond to my own post as if it was written by someone else.

Gotta run, they lock the doors of the institution at 5pm. Don't want to miss out on dinner .... it's pizza night for those still capable of chewing.
Lol. This is a great post.
Honestly it was a really thought provoking thread imo. It obviously took me down a few different paths. I enjoyed the thought exercise. And frankly, I've been a bit surprised it didn't attract more discussion.