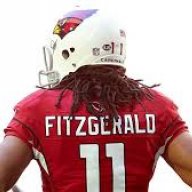 Crawled Through 5 FB Fields
Joined

Aug 10, 2005
Posts

13,405
Reaction score

2,982
Location
Per MJ. Honey Badger thinks there will be a high market for him if the Cardinals release him.

If BA remains the HC, BA will most likely want the Cardinals to honor HB's contract, because of the bond BA has with the Honey Badger. If the Cardinals pay him the $5M roster bonus in March, HB will count $14.1M on the cap for the next 3 years (2018, 2019, 2020) and $9.5M in 2021. That's a grand total of $51.8M for 4 years.

If the Cardinals do not elect to pay HB his bonus, the dead money on the cap is $9.2M. The Cardinals have paid HB $21.7M in cash the past two years (while only counting $4.4M + $8.1M = $12.5M combined on the cap for the past 2 years...and neither year, because of injuries and tentative play has been a good year (by relative standards) for HB on the field.

The problem is...he's starting at FS...but he's not a true centerfielder. FS is not his natural position. His forte has been as a nickel CB, but he has been struggling more than in the past in that role the past two seasons. He's still a pesky blitzer off the edge, but has lost some of the explosion he displayed a few years ago which allowed him to be consistently disruptive.

Mathieu continues to insist that when healthy he's the best defensive player in the NFL.

Is he correct in assuming there will be a high market for him elsewhere?

Any team that offers him a high end salary will be taking a risk. His play on film the past two years would suggest that he is not nearly the player he was back in 2015 before his 2nd ACL injury.

This scenario seems like a no-brainer for the Cardinals. If HB refuses to take a pay cut, then he wants out of Arizona. he has to be delusional to think at his current level of play he's worthy of $14.1M a year.

When Honey Badger was at his best in 2015, he was worth the money, and boy oh boy was he exciting to watch Will he ever return to form and be the real Honey Badger again? I think there is a slight chance, but not with the current coaching staff. Not with BA as HC and James Bettcher as DC. if HB winds up with a HC and DC who create a tougher culture and higher standards on the defensive side of the ball---like in Seattle or Los Angeles, he could be rejuvenated. But the thought of him playing well for one of our NFC West foes is agonizing.

What do you think the Cardinals should do?

This one is tough to decide, isn't it?