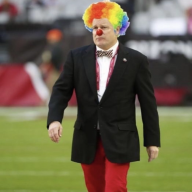 Joined

Feb 14, 2003
Posts

34,961
Reaction score

22,370
Location
Some people here know that I'm a club soccer coach. It's super fun working with the kids, consistently gets me over 30k steps a day, and feeds a lot of my competitive energies. But, I'm the coach for a club's second (B) team, which means my roster is consistently raided of the best players each year. So every season I'm at the mercy of families who discovered the club online and were happy to make a second team.

This year the boys stepped up from 9v9 to 11v11, which means rosters roughly doubled. I lost four kids to the first team, two left soccer altogether, one changed clubs, and one moved -- 85 goals from last year. This team has been mostly pummeled in preseason scrimmages, and we're probably going to go 1-5 in league play and get relegated. I'm dealing with it. Kind of.

I'm trying to focus on helping each kid get better and understand that as everyone improves, the whole team will get better and more competitive. That's not going to take much sting out of another 1-9 loss.

Long way of saying that the best way probably to watch Arizona Cardinals football this year is to pick some favorite players and focus on how they get better in each four-game section of the season. I'm (hopefully) not going to watch a lot of Arizona Cardinals football this season, but when I do watch, here's what I'm looking forward to:

1) Michael Wilson, WR. I hate to say it, but I've 100% bought into the hype as long as it lasts. I don't know how many big play opportunities Wilson's going to get, but I think he'll get a lot of targets and opportunities.

2) Cam Thomas, EDGE. Thomas looks the part. I think he'll require direction to bulk up to be an IDL if that's his future, but he looked like a very fluid athlete in his snaps against Minnesota. I'm a Myjai Sanders fan, but I wonder about his fit now.

3) Paris Johnson Junior, OT. I feel like it will not be fun to follow the ball at the snap when the Cards offense is on the field, so I'm going to be watching the right side of the line and see if PJJ delivers some pancake breakfasts.

4) Jalen Thompson, S. #34 is likely to be The Dude on the defense next offseason, as I expect Budda Baker to be converted into cap space and maybe a third-day draft pick. It'll be interesting to see if he's mostly playing center field to protect an inexperienced group of cornerbacks or positioned to make plays.

5) Trey McBride, TE. It should be easy to watch McBride and PJJ at the same time, since they're likely to be paired together often when the Cards offense is driving. Would like to see him play more in control and in command.