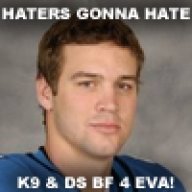 Joined

Apr 30, 2003
Posts

30,484
Reaction score

4,846
Hello all.

I have always been fascinated with investing, and finance. Yet, I have no money to invest, and all fancial books I have written are pretty crappy. No details, no explanations, no guides. Just quasi-fictional situations, and personal advice.

Thus my ignorance on the situation.

As for my question:

How can the Dow: be at 12,400, and we are still in a "recession" in regards to lack of jobs, opportunities, and costumer spending ?

And then there is this "interest rate" that needs to be raised or whatever.

The highest the blasted thing has ever gotten to is 14,000, and that was riding the housing bubble. If I remember when the whole market tanked, the DOW was at 6,000.

So, what is the deal ? Why the lack of progress while business seems to be "picking up" ?

Feel free to discuss amongst yourselves, but if someone would throw me a bone, and put it in simple terms that would be great.

Oh, and a personal request to keep the tone it "it is what it is" cause I am pretty numb to doom and gloom at this point anyway, but obviously you can ignore that. Information is what I am after.