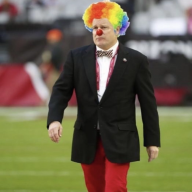 Joined

Feb 14, 2003
Posts

33,960
Reaction score

19,811
Location
The 2022 Cards' curse is catching. Anyone who watched to the end of last night's episode saw the dedication to a Hard Knocks team member who passed away with a baby expected next year. Just BRUTAL.
Kyler Murray and his dad made an appearance at the very beginning of this episode. It's crazy but not unexpected how these teams just move on once someone is hurt -- there's too much to do and not much worth dwelling on.
One other pleasure of watching Hard Knocks for your local team is seeing where people live and trying to decide whether you know the neighborhood where they're living.
Heroes



Colt McCoy
- First, Ms. Colt is an absolute smokeshow. Good on Colt -- be great, short king. His family looks super-sweet and cute; the life of the longterm backup QB has to be one of the best in sports.
J.J. Watt
- Not much left for an unaligned fan to watch for on this season. J.J. is the leader of an effort to get gifts for the Cards support staff, which is nice. It was hilarious to watch all the Denver OL talk about how great it was to play against him. The Bucs released a similar video of guys from the 49ers tickled about getting to play against Tom Brady. It can't be easy to get your butt kicked and then have a bunch of fanboys (who just kicked your butt) come up to you like that.
Trey McBride
- Trey has two female parents! He's another big lunk but seems like a sweet kid. He seems awfully slow on the practice field for a receiving TE, NGL, but I'll be cheering for him because his parent has an amazing mullet. I will no longer stand for Trey McBride slander.
Goats



Michael Bidwill
- Michael's thirsty address to the team on Steve Keim and then his sideline shot are embarrassing. It sucks to have a thirsty, embarrassing owner. No one respects this guy in the building.
Vance Joseph
- Vance goes on early-morning walks with some of his coaches every day. This would be useful information if you expected Vance to be here next year. I do not. He has a nice family and a good story, but he doesn't have any answers.
Leki Fotu
- All Leki wanted to do was make some delicious waffles for his team. So he brings his waffle iron, syrup, and butter to the training facility. He also brings flour, and eggs, and milk. And baking powder. And like nine different bowls. And then he makes the waffles one at a time. Just really great work all around.