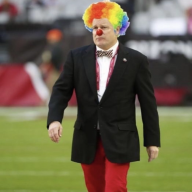 Joined

Feb 14, 2003
Posts

33,981
Reaction score

19,904
Location
This episode started and ended in darkness with empty streets. Seems like the Hard Knocks crew hasn't really enjoyed their time in the Valley. The production values of the game- and practice-day moments remain super-cool. The Cards have buried anything that's actually interesting about what going through a failed season is like inside the building.
Heroes
Deandre Hopkins' Mom - We got a second helping of DHop's family story in tonight's episode. Nuk's mom has a great attitude and must feel wildly blessed. Interesting choice by NFL Films to capture her story while she's being made up.
Bill Belicheck - The entire coaching staff was afraid of the New England Patriots, and we got treated to a montage of the head coach, QB coach, defensive coordinator, and WR coach talking about how basically we had no chance. Plus, we got a warm moment between Nuk and Bill.
Zach Allen - I hope that Allen goes somewhere, gets rich, and becomes a star. He's a big lunk who (from what I hear) gets in the tub with his dog and they shower together. No one's benefitted more from having J.J. Watt in the building these past two years.
Goats
Kliff Kingsbury - The extended shot of Kliff having no answers at the end of the blowout was BRUTAL. There's really nothing you can do from the sideline in these situations; I feel like NFL films could have shown a 45-second clip like this for many, many NFL coaches. But the unwillingness of Michael and Mark Dalton to put the kibosh on it is pretty dark.
Cam Turner - The QB Coach got caught on camera saying that we shouldn't even game plan for the Pats because they're better than us. He also cited a dumb quote falsely attributed to Albert Einstein about how negative people have a problem for every solution. We're well-rid of this guy. Someone put a foxy security guard in his path.
Robbie Anderson - At the end of the game, NFL Films showed Anderson telling Kliff, "We're still with you coach." That's a good attitude to have; Kliff clearly isn't going anywhere for the rest of the season (at least). But you could also see him searching out the NFL Films camera to make sure he's in-frame.