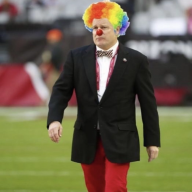 Joined

Feb 14, 2003
Posts

33,960
Reaction score

19,809
Location
My wife hates Star Wars Episodes 1 - 3, but she likes Rogue One. She also hates Andor and Solo: A Star Wars Story, but she likes Book of Boba. See, she hates prequels because she knows what the ultimate outcome is going to be for the characters. This is one of the challenges of Hard Knocks: In Season. Unlike the Training Camp editions, which take place in a relative vacuum, the outcome of each week is widely known. So, what's to keep viewers hooked through a 10-point road victory unlikely to mean anything in the standings?

Hard Knocks struggled to answer that question this week, and I'm guessing meddling by Cardinals executives played a role. What a boring hour of television. The emotional high point was our fifth-best offensive lineman's stomachache. Or maybe the star quarterback cursing over dinner at a rookie sixth-round pick. Yikes.

Kent Somers and others confirmed that the Cards have some editorial control over what makes it on-screen during Hard Knocks, and it was obvious that either this team lacks drama (LOLOLOLOOLLLL) or that the front office decided there was a little too much drama this week, so the crew had to pull out tape from the Ravens week of practices of J.J. talking with Rondale Moore.

Heroes

Shawn Jefferson, Assistant HC/WR Coach - Jefferson got the human edit and was featured as a father, husband, and grandfather. These little moments are some of the best things about Hard Knocks because it just shows people doing their jobs who have worked hard for years with little fanfare.

Colt McCoy, Backup QB - Congrats to Colt, who got the heroes edit the week after Kyler came off as fairly petulant. He looked like a guy who was in charge of meetings and practice and understood the narrow path to victor

Kealia Watt, NFL Wife - J.J. Watt is pretty corny and cringe to a younger audience, but his wife is a little cutie pootootie who looks like she's rather be back on the soccer pitch than doing a dumb TV show. Did you know that her sister is Brian Cushing's wife? Weird.

Goats

Steve Keim, GM - Talking Thumb Steve Keim got moments driving down the freeway talking about Rams week and sitting alone at SoFi field. He also was complimented for his sweatsuit on a practice day that was obviously selected to be slimming. Very little indication of what he does or whether he's good at it.

Sean Kugler, "Offensive Line Coach" - It was hard to tell which was the most staged moment of the episode: the offensive line dinner or Kugler's cringy offensive line meeting where he teased Kelvin Beachum for eating popcorn(?). Missed opportunity for all to show the savage ballet that really goes into offensive line play.

Kelvin Beachum, OT - Poor Beach. He stated that he was not interested in having Hard Knocks in the building and still ended up getting featured as a guy who sits in the back of the meeting room and poked fun of. It was good to hear him talking trash on the field though through the Rams game.