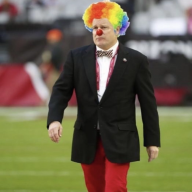 Joined

Feb 14, 2003
Posts

34,036
Reaction score

20,056
Location
The backbone of Hard Knocks is the game action. No one shoots and edits a game better than NFL Films. It looks great, it's paced well, the music hits the right marks, and you don't really care that the narrative they put together don't match what actually happened in the game. In a lost season, the narrative is more important than the reality. That's the hard fact that Kingsbury and his staff are going to have to live with.
There isn't much going on in the first 20 minutes of this episode. We get some great clips of the coaching staff telling players how good J.J. Watt and Budda Baker are; we get a warmed-over story of James Conner's battle with cancer. NFL Films is probably mad that players are going on IR faster than they can air the pre-edited segments about them. Oh, well. But then they get to the game and it's pretty awesome.
Heroes


James Conner's Grandma
- She doesn't like sitting in the luxury box where NFL Films can watch them all game, but she's a great, uplifting presence cheering for her kid. Love it.
J.J. Watt
- I know I watched the training camp edition with the Houston Texans featuring Watt, and he came across as a try-hard there. This year he's getting an edit as the adult in the room. The best player on a bad team. We'll miss him.
Vance Joseph
- He has a nice house in Fountain Hills, a great story, and a nice family. He's a leader of men type similar to what I imagine appealed about Steve Wilks to Michael Bidwill. Joseph should prepare a short list of the offensive staff he could bring in if promoted.
Goats


Zaven Collins
- Roasted by J.J. Watt after an interception bounced off his hands and also broke Budda's collarbone. He must be a real goober not to get a featurette on this series.
The guy sitting in front of McSorley's family
- Brother, you wear that toupee with all the confidence of a middle-aged white dude. No one notices the shiny dark hair on top and the stringy grey on the sides. You do you, king.
Kliff Kingsbury
- Man, I want to believe that playcalls like "Brittany" and "Dog Pound" just relate to the real play name on McSorely's wrist band. Because those calls sound like the ones my dad had on his six-play sheet back when he coached my kid brother's U9 Flag football team 20 years ago.
This is what a real NFL offensive playcall sounds like.