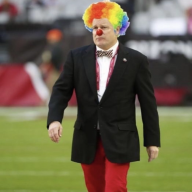 Joined

Feb 14, 2003
Posts

33,961
Reaction score

19,811
Location
Pity the poor HBO Films crew. They've been fortunate to be embedded in south Tempe for the year, but they've been unfortunate to have to shuttle back-and-forth to Paradise Valley/Fountain Hills all the time, and they've run out of interesting personalities to focus on, either due to injury or uncooperativeness.
It's wild how Hard Knocks has (been forced to?) tiptoe around the whispers about coaching changes. I would guess that it's a taboo topic inside the building, but that probably should be the most fascinating thing about this. I wish I could find out what drives Kliff to still come to the facility at 3:30 AM when there's nothing of value to be gained.
Heroes


J.J. Watt
- The Cards have been so stingy providing/approving content that a lot of this episode featured highlights from previous seasons of Hard Knocks. J.J. has had a great career, he's a great interview, and he seems like a good teammate to a lot of guys. He deserves a better ending to his story. Weird that Houston couldn't find a way to keep him around.
A.J. Green
- What a letdown to a likely Hall of Fame career. Green is a two-time second-team All-Pro selection and seven-time Pro Bowler. He gets a season where he's going to get outperformed by Greg Dortch. Nice feature on him watching his kid play flag football at some local park and a clip of him being clowned because HUDL didn't exist when he was in high school.
David Blough
- It's always a good standby to show a professional athlete blow minds with a simple card trick. Blough also gets a revisit from Hard Knocks past, in case someone missed the much-better Detroit Lions training camp. Blough is a churchy goober, but he seems like a good enough guy.
Goats


Michael Bidwill
- Seems like last year Michael and his siblings were spending a lot of effort trying to secure their father's legacy. Bill Bidwill, Sr. was added to the Cardinals Ring of Honor, and putting his name on the stadium of the Little Hoyas of Georgetown Prep (ranked 25th in Maryland in 2022). Imagine having to take time off your job to cover this.
Zaven Collins
- Another big goober who has an enormous closet. We got to watch JJ roast him (including some replays from previous weeks), and Bill Davis talked about his measurables and how the team wants him to play more instinctively. That seems to be a theme for our young linebackers (maybe a problem!).
Dean Pees
- At the end of a fairly lackluster gameday sequence (if you have to talk about how entertaining the game was, maybe it wasn't that entertaining), the Atlanta Defensive Coordinator walked around and introduced himself to a bunch of Cardinals players, including J.J. Watt. Coach, you've spent
14 years in the NFL
and nearing your 45th year as a football coach.