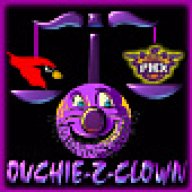 Joined

Sep 16, 2002
Posts

57,800
Reaction score

47,678
Location
to further that point...

Latest news coverage, email, free stock quotes, live scores and video are just the beginning. Discover more every day at Yahoo!

www.yahoo.com

this is just not a Head Coach of any legitimate team outside pee-wee level football. He won't critique players in public... fine. different strokes for different folks with coaches. But he won't actually pinpoint specific players' problems/mistakes in private either? Talks more in generalities? Maybe that works in pop-warner where you don't want to kill a kid's ego early on and it's more about fun than winning, but the NFL... or even college or even high school?

A coach who can't criticize players in public is one thing, but one who won't hold them accountable behind the scenes either isn't a coach... he's a bad freaking babysitter that just wants the kids to like him even as they're throwing crap against the walls and calling him a douche.
That doesn't even work in pee-see becasue then the kids never acquire the skills necessary to play.