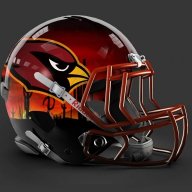 Stone Cold
Banned from P+R
Joined

Mar 13, 2004
Posts

14,731
Reaction score

9,714
Location
Denver is looking to move Jerry Jeudy.
We are looking to move DHop...

We have all been focused on being the seller but what if we were the buyer?

Vance knows everything a coach needs to know about Hop.
Payton likes to make a splash. Jeudy is good but maybe a well respected vet gives Russ more confidence.

Call Denver, who has walmart money to compete with KC...and offer them DHop and a 5th for Jeudy...let them haggle you as high as a compensatory 3rd.

A 23 year old star wr in the third year of his rookie deal is just the kind of player we need.