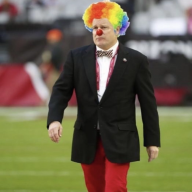 Joined

Feb 14, 2003
Posts

34,906
Reaction score

22,208
Location
The funny thing is that we don't suck. We're not hopeless. We're kind of a Good Bad Team. The Raiders suck and are hopeless. We don't even have the worst head coach in the NFL (probably). It feels like we spent most of the preseason lowering expectations for each other, and we just didn't set the expectations low enough.
The loss to Minnesota was a one-score loss. We saw how a couple of plays here or there would have made the difference. This team doesn't lack talent to be competitive. A lot of people have been saying it, but it was clear what the team lacked since the beginning of the offseason: a clear vision for who the 2022 Arizona Cardinals are and what they want to be. Kyler Murray is not an inspirational leader. Kliff Kingsbury is not an inspirational leader. Steve Keim is not an inspirational leader (although he definitely feels like he's the Alpha Male in this group). Michael Bidwill is not an inspirational leader. What's the vision for this team?
We can't change the owner. The path forward at QB is blocked for at least the next year. Keim is extremely close to the owner. The best argument for firing Kliff is that's the best point to bring in someone who can be the boss. We just don't know how easy it is to recruit that. It's hard to imagine an effective leader who is completely willing to cede personnel decision-making to Keim, which is the current situation.
You must be registered for see images attach
DeAndre Hopkins, WR
- Nuk continues to just assert himself on the rest of the NFL. 12 receptions for 159 yards and an absolute dagger of a TD catch.
J.J. Watt, DL
- New dad seemed to be getting some Zs somewhere the past week. Had a pair of sacks to go along with 3 QB hits. He's still probably playing too many snaps (77% -- as much as Zach Allen)
Rondale Moore, WR
- Moore's raw stats (eight receptions for 92 yards and a TD) understate his contributions in this game, where he also drew multiple penalties for key first downs.
You must be registered for see images attach
Eno Benjamin, RB
- Eno's first four carries netted 0, 0, 4, and -1 yards. He didn't get a first down rushing the ball until there were 3:16 remaining in the second quarter.
Kyler Murray, QB
- Let's take a quick look at the quarter-billion-dollar man's fourth quarter drives:
You must be registered for see images attach
Oof.
Kliff Kingsbury, HC
- A.J. Green played 37 snaps and was targeted once. Robbie Anderson played seven snaps and was targeted three times. Obviously this will change a little bit more as Anderson gets onboarded, but it's on Kliff to integrate new personnel into the offense more effectively.