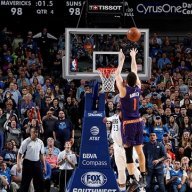 Joined

Aug 26, 2012
Posts

9,654
Reaction score

5,747
I am saying that it seems to me that this thread (or any like it) simply exists so that people who didn't like the trade can have a repository for their "I told you so's." Every time one or both of them have a nice game, it seems it's going to be referenced here as if we lost that same value by trading them... which there is no evidence of, as they weren't producing the same results here, nor was there any sign that they would ever consistently do so.

I was saying that there was some specific reason(s) why that was, whether it was due to coaching philosophy... or some alternative reasons as you suggest. Whatever the case, the point is the trade isn't and never was going to be a one-to-one opportunity cost. Bridges/Cam were not going to achieve the same results here as Durant will. Never.

Now the draft picks we sent the Nets could always result in four superior players (although it's far more likely they won't), and we could well end up lamenting that. That's the chance you take with any trade - that what you give up ends up being less than you get.

As for trading Bridges for the four first rounders, that certainly wasn't going to win us anything in the near term... and would have been speculative at best in the long term. I would have been highly upset at such a trade, as I'm sure most everyone else here would have been.
The person that made the thread is on record as being for the trade.
Also I am very much for this trade and yet I am very interested in seeing how the twins do in Brooklyn. It's okay to both be good with the trade happening and still want to follow the progress of the players that left at the same time.